About
The American National Standards Institute oversees standards and conformity assessment activities in the United States.
ANSI's mission is to enhance both the global competitiveness of U.S. business and the U.S. quality of life by promoting and facilitating voluntary consensus standards and conformity assessment systems, and safeguarding their integrity.
Encompassing nearly every industry, the Institute represents the diverse interests of more than 270,000 companies and organizations, and 30 million professionals worldwide.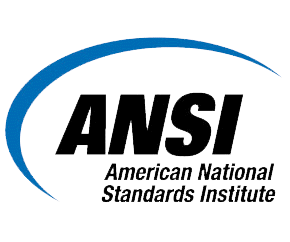 Manuals Available in PowerDMS
ISO 13485 Medical devices - Quality management systems - Requirements for regulatory purposes

ISO 14001 Environmental management systems - Requirements with guidance for use

ISO 15189 Medical Laboratories - Requirements for Quality and Competence

ISO 17025 General Requirements for the Competence of Testing and Calibration Laboratories

ISO 9000 Quality management systems - Fundamentals and vocabulary

ISO 9001 Quality Management Systems - Requirements

ISO 9004 Managing for the sustained success of an organization - A quality management approach

ISO 22000 Food safety managment systems - Requirements for any organization in the food chain

ISO 45001 Occupational health and safety management systems - Requirements with guidance for use

ISO/IEC 17011 Conformity assessment - Requirements for accreditation bodies accrediting conformity assessment bodies

ISO/IEC 17020 Conformity assessment - Requirements for the operation of various types of bodies performing inspection

ISO/IEC 17021 Conformity assessment - Requirements for Bodies Providing Audit and Certification of Management Systems

ISO/IEC 17024 Conformity assessment - General Requirements for Bodies Operating Certification of Persons

ISO/IEC 17043 Conformity assessment - General requirements for proficiency testing

ISO/IEC 27001 Information technology - Security techniques - Information security management systems - Requirements

ISO/IEC 27002 Information technology - Security techniques - Code of practice for information security controls

ISO/IEC 27017 Information technology – Security techniques – Code of practice for information security controls based on ISO/IEC 27002 for cloud services

ISO/IEC 27018 Information technology — Security techniques — Code of practice for protection of personally identifiable information (PII) in public clouds acting as PII processors

ISO 45001 Occupational health and safety management systems — Requirements with guidance for use