Benefits of a first responder wellness app
Enhance your wellness program with comprehensive resources
Provide anonymous support – anytime, anywhere
Reduce burnout by providing responders an outlet to talk to others
Improve responder wellbeing with relevant articles and videos
Equip your responders with easy access to support
Get insights to your department's wellness needs
Support from peers who get it
PowerLine Solutions includes a nationwide network of peer volunteers so you and your responders can connect with someone who shares your unique challenges. The app anonymously matches users with trained peer volunteers based on industry, location, rank, and experience. Talk to someone who gets it.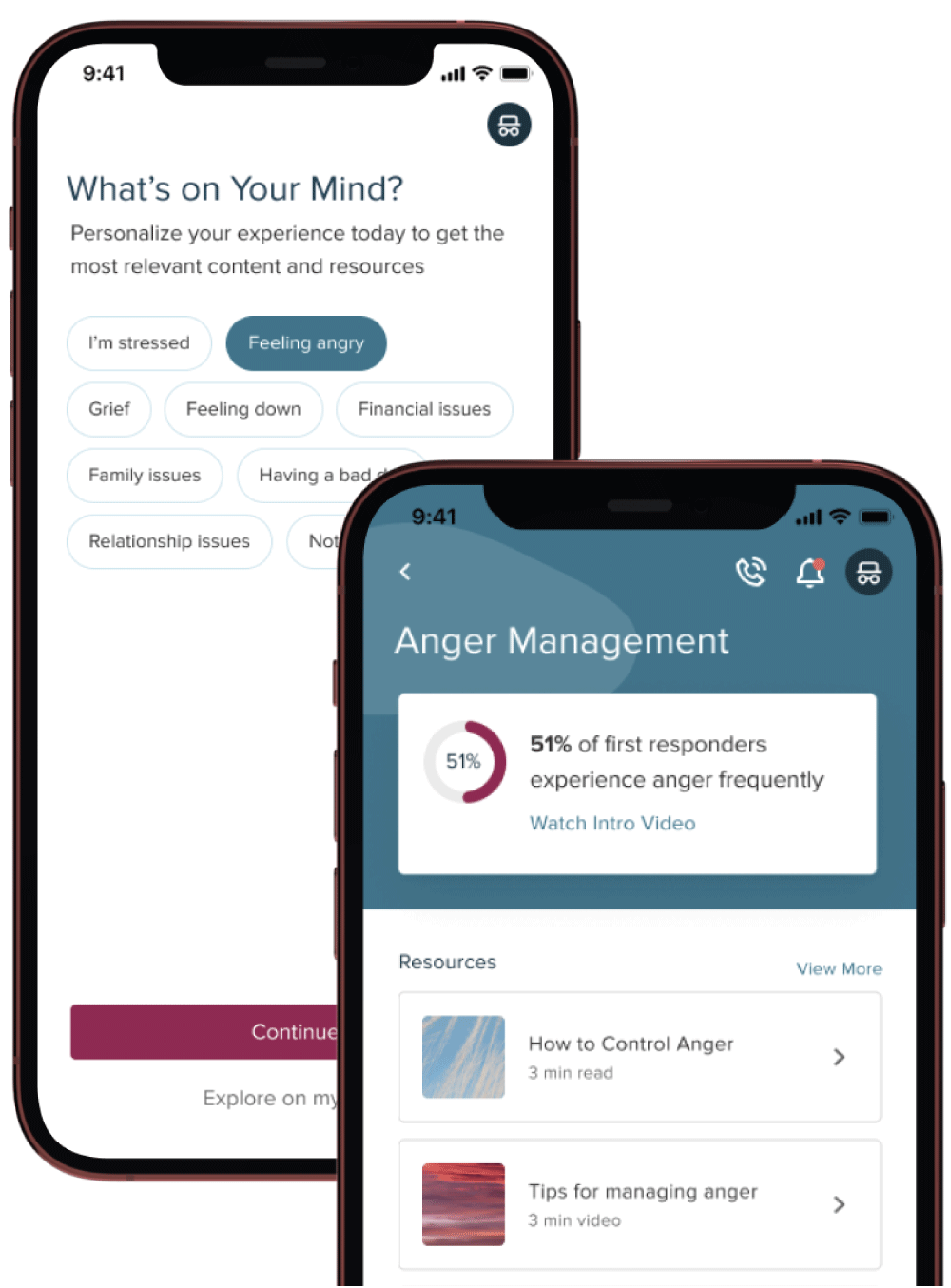 Improve first responder wellness
PowerLine breaks down barriers that traditionally prevent responders from getting the support they need. Provide your team with anonymous support at their fingertips – self-assessments, wellness check-in requests, a resource library with content that covers the topics they care about, and more.
Enhance your first responder wellness programs
Provide your responders with one convenient place to access support on their own terms. In addition to the in-app tools PowerLine provides, you can also upload your local contacts, peer supporters, and other existing resources to a dedicated place in the app.
Key first responder wellness app features
Nationwide Network
The only network of peer volunteers that your responders can access anonymously
Group Sessions
Volunteer-moderated group sessions on the topics your responders care about
Local Resources
Include existing resources and current peer support contacts all in one place
Full Content Library
Videos, articles, and audio resources that address responders' biggest challenges
Self-Assessments
Results help your responders identify areas where they may need more support
Measurable Insights
Never connected to users' identities, dashboard data helps identify your agency's wellness needs
Content library designed for responders
Sleep optimization
Stress management
Work-life balance
Burnout
Anger management
Addressing health risks
Heart health
Happiness
Goal-setting
Resilience
Family support
Self-care
Wellbeing
Physical fitness
Addiction
Alcohol abuse
PTSD
Trauma
Anxiety
Depression
Sadness
Empathy
Compassion fatigue
Emotional health
Finding therapy
Cognitive Behavior Therapy (CBT)
Local resources
Mindfulness
Yoga for first responders
Breathwork
Career success
Minorities in public safety
Communication
Kindness
Neurodiversity
Suicide prevention