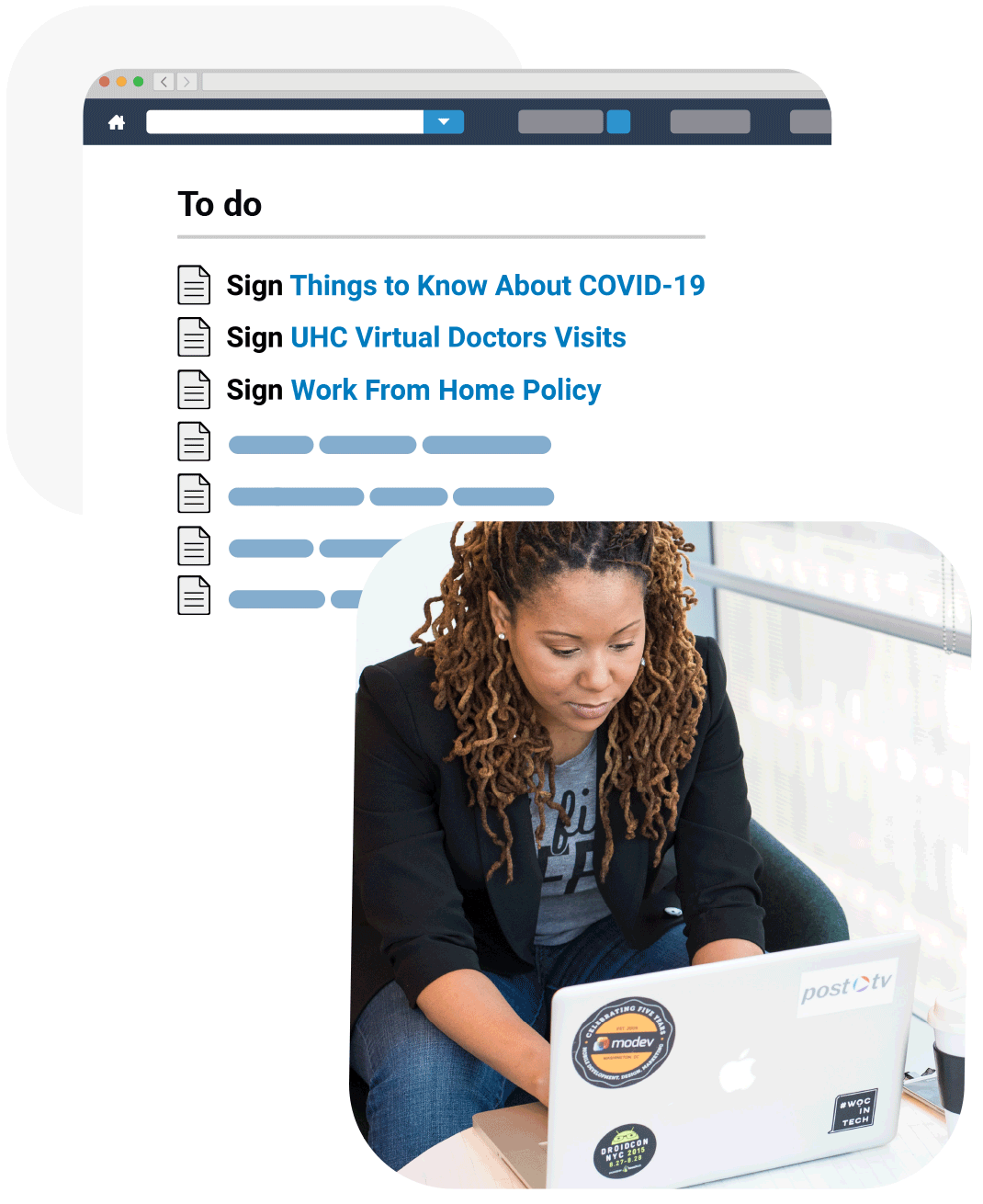 Benefits of PowerPolicy
Update policies 4x faster:

Policies can be revised and distributed 4x faster when compared to traditional paper-based processes.
Save $11k in paper and printing:

Our customers save an average of $11,000 in paper and printing costs alone.
Promote accountability:

Hold your staff accountable to policies by tracking signatures, building custom tests, and storing document history.
Communicate more effectively: Provide 24/7 access to policies and procedures, and verify employees have read important updates.
Build a culture of compliance:

Communicate critical updates to staff, provide access to policies from any device, ensure one version of each document exists, and understand the relationship between your policies and industry standards.
Trusted by 5,000+ organizations for policy and compliance management







"We are using PowerDMS to provide access and control review and revisions across a multi-site healthcare system. It allows all of our offices to access the policies and sends the proper reminders when policies need to be reviewed. We also set up the workflows so that approval can be automatic." - Stephanie Pins, War Memorial Hospital
"PowerDMS houses all of our documents and procedures…it solves our problem with document approvals, revision control, record retention, and even verifying training effectiveness. Before, we were keeping our records in filing cabinets and it would take forever to keep up with that system. Now we just type in what we need, or what team member we're searching for and it's all right there." - Lydia Scott, Henry Schein
"With Public-Facing Documents and PowerDMS, in two clicks we can...ensure our citizens have access to the most current policies and procedures—the same ones our officers are referencing daily." - Lt Robert Quick, BPD
"The documents are easy to find, read and sign off on when necessary. Signatures are easily tracked and employee/user set up is easy as well." - Michelle Baca, Amerisave Mortgage
"Review of policies are quick and easy. You can schedule a review to be conducted on an annual basis. PowerDMS automatically places the review in the appropriate parties' inboxes." - Kathy DeLillo, North Carolina State University Student Health
"Having the history of policy changes and providing a much more efficient way to track communication and acknowledgment makes PowerDMS well worth the investment." - Mimi Merhi, City of Henderson
"PowerDMS allows me to set a time limit on viewing an important policy or procedure. This way I have some reassurance that employees aren't just signing new policies without reading them." - Wendi Lively, Spartanburg County (SC) Emergency Communications
Why you need policy management software
Accessibility
Accountability
Efficiency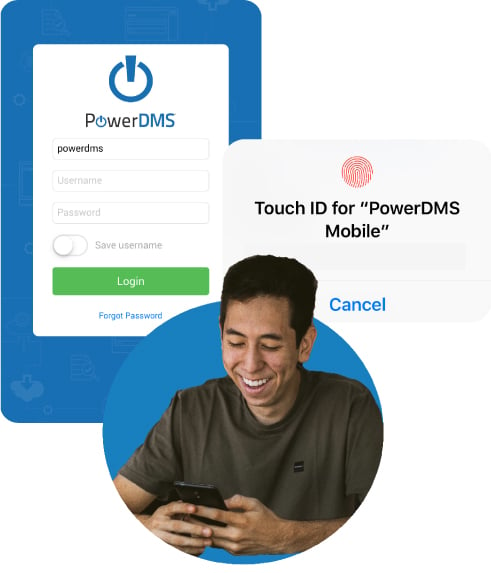 Accessibility
Give employees the information they need, when they need it most.
Central Repository
Get unlimited storage for most file types (up to 100MB per file), including Microsoft Word, Excel, PowerPoint, PDF, JPEG, HTML, and videos.
Mobile App
Deliver policies straight to your staff's smartphones. Admins can handle essential tasks like document, folder, and user management.
Accessible Platform
We consistently improve accessibility on all our products and strive to adhere to WCAG AA and 508c compliance standards.
Intuitive Keyword Search
Full-text search, an intuitive folder structure, tagging, and bookmarks make it easy for employees to browse and find policies and procedures.
User/Group Permissions
Control who can view, audit, and edit specific folders, documents, or users. Rest assured that every employee has proper levels of access to critical information.
Editing Tool Integrations
Use the editing tools you are already familiar with. PowerDMS integrates with Microsoft Word, Excel, and PowerPoint as well as OneDrive and Google Drive.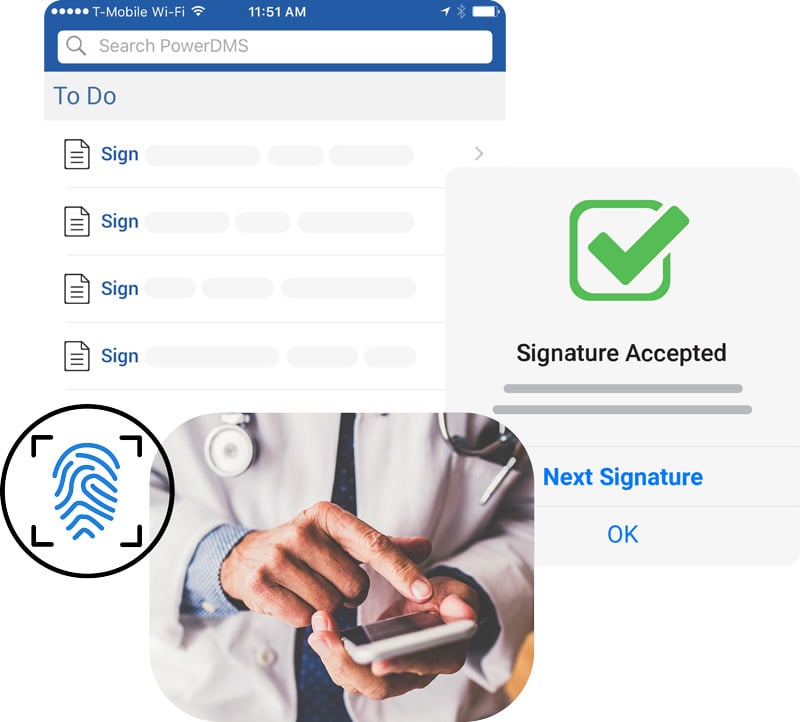 ACCOUNTABILITY
Hold employees accountable to policies and procedures
Electronic Signature Tracking
By capturing and tracking E-signatures, you hold employees accountable to important documents and gain visibility into who's signed what.
Dashboards & Reports
See outstanding items like missing signatures, incomplete training, or failed tests, to keep employees and managers accountable.
Public-Facing Documents
Build community trust by making select policies publicly accessible. When a policy is revised, the public view is automatically updated.
Scheduled Reports
Automatically send reports to supervisors to empower them to hold their direct reports accountable to policies and training.
Version Control
When a policy is updated, the previous version is automatically archived and only the most current is available to employees.
Document Audit Trail
View a complete history of changes throughout a document's lifecycle, including signatures, edits, workflows, approvals, and more.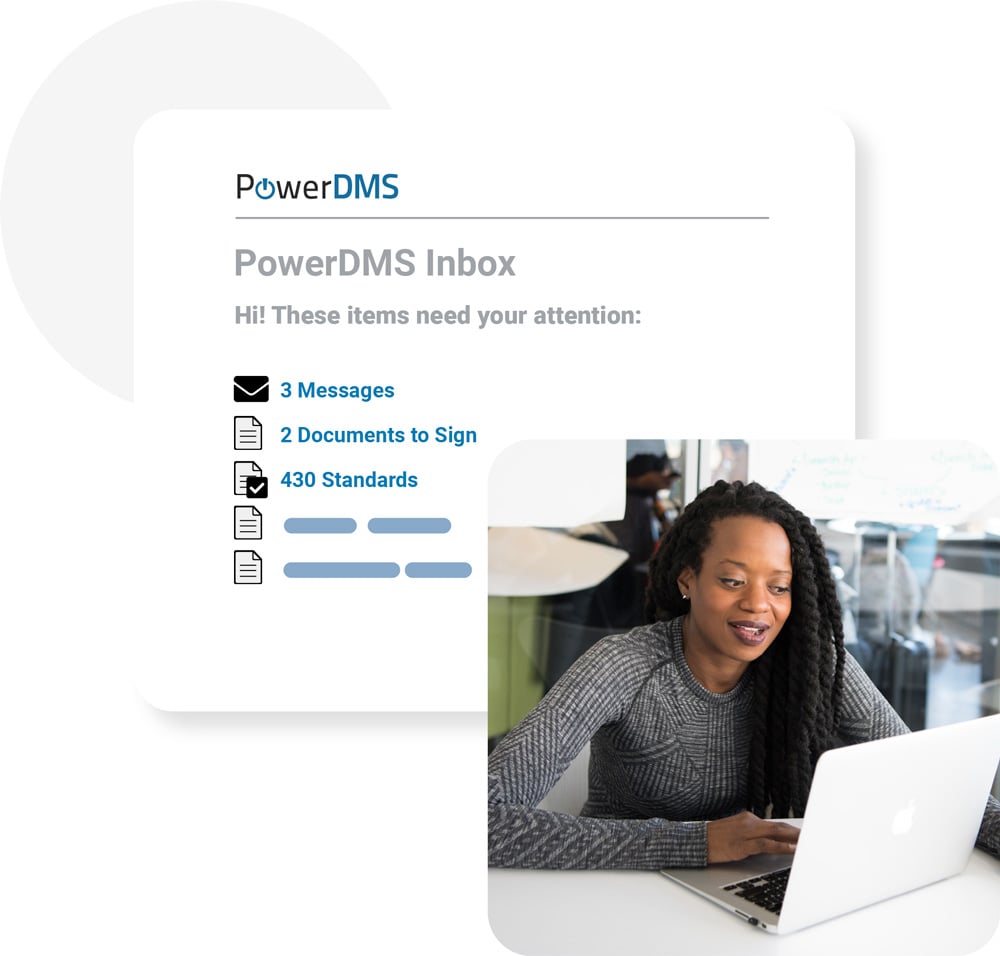 Efficiency
Eliminate the cost and complexity of outdated policy processes.
To-Do List
Upon login employees see a list of outstanding items along with everything they completed that day in PowerDMS.
Email Notifications
Schedule custom email alerts or send employees an automated to-do list summary of their outstanding items.
Workflow Tools
Route documents for collaboration, review, or approval. Establish consistent processes for each department with workflow templates.
Side-by-Side Comparison
Easily review and approve changes to critical documents with side-by-side, color-coded highlighting of everything that has been added, deleted, or revised.
Policy Review Automation
Schedule recurring reviews for your policies and receive automatic email reminders of those review dates, so none of your documentation falls through the cracks.
Policy-to-Standards Mapping
We publish the standards manuals of 40+ accrediting bodies. Map your documents to specific standards so you understand how they impact your compliance.
Top questions we get asked
Explore answers to the top questions we get asked
How is PowerDMS different from the competition?
What ROI can I expect from PowerDMS?
What programs does PowerDMS integrate with?
Can I automate the policy review and approval process?
Does PowerDMS let me assign policies to staff to sign?
What type of content does PowerDMS support?
Does PowerDMS let me control access to content?