Monday, September 1, 2014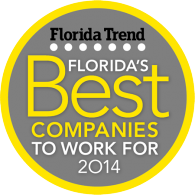 Orlando, Fla. (September 1, 2014) – PowerDMS, a cloud-based document management software company, headquartered in Orlando, was recently named one of Florida's Best Companies to Work For by Florida Trend magazine.
"It's an honor to be recognized as one of Florida's Best Companies to Work For, especially since it is based on employee feedback," said PowerDMS founder and CEO, Josh Brown. "Whether it comes in the form of a fun office environment or innovative benefits, our number one priority is creating a company culture that provides employees an opportunity to thrive while enjoying their time at work."
The annual Best Companies list features 100 companies, ranked in small, medium and large employer categories. The companies were recognized based on anonymous employee surveys, focusing on leadership and planning, corporate culture and communications, role satisfaction, work environment, relationship with supervisor, training and development, benefits and overall engagement.
"The best thing about working at PowerDMS is the autonomy that is granted to you to explore your interests and hone your craft as you collaborate with others to achieve both your personal and company goals," said Danny Gioulakis, five-year employee and software developer.
The rankings appeared in the August 2014 issue of Florida Trend magazine. In addition to the list, the issue features a Q&A with a few of the Best Company HR professionals, including PowerDMS's own. "Our culture will continue to allow us to recruit and retain the best and brightest workforce and continue to enhance our software and serve our customers in the best way possible," said Heather Jones, HR and talent acquisition.
About PowerDMS
PowerDMS, headquartered in Orlando, Fla., is a cloud-based document management software company. The application provides practical tools to organize and manage crucial documents and industry standards, train and test employees, and uphold proof of compliance, thereby helping organizations reduce risk and liability. PowerDMS simplifies document management through powerful collaboration, process, and automation. PowerDMS has been named one of America's Fastest-Growing Private Companies by Inc. magazine for four consecutive years and named one of Orlando's Best Places to Work by the Orlando Business Journal.