The importance of document control
The first step to effective document management for healthcare is understanding the importance of document control. Document control means you have a plan in place for managing information that mitigates risk and governs document quality.
When you implement policies on how to handle your information, you can ensure compliance with governing bodies. This will protect your organization, its employees, and the patients they serve.
Easily demonstrate regulatory compliance
You already know that your organization deals with highly sensitive information. One wrong move could lead to significantly negative outcomes.
That's why protecting your organization through compliance with regulations is key. If you want to reduce risk of litigation and protect your organization financially, it's important to demonstrate that your information-related policies align with the most recent regulations.
Of course, HIPAA is a major part of compliance for protecting health information. However, there are a number of other agencies and regulatory bodies to consider at both the state and federal level. These agencies include the following, among others:
Track who has reviewed and signed documents
Unfortunately, aligning your documents to regulating bodies isn't enough to protect your organization in court.
To further mitigate risk and demonstrate compliance with governing bodies, you will need to prove that everyone has seen and signed your policy documents.
This can be difficult to do, as you can imagine, with paper documents, which can be easily lost. Instead of taking up valuable time (and office supplies), opt for online document management.
Most healthcare document management software has features that allow you to track who has reviewed and signed all your documents.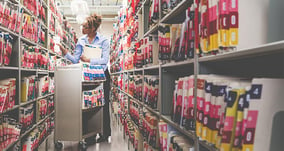 Quickly adjust to changing requirements
Healthcare public policy and technology can change quite rapidly. Effective medical document management takes adaptability for this very reason.
It also requires a willingness to quickly update your policies to line up with changing requirements. As you can imagine, It's much easier to update existing documents than create new ones from scratch.
Having all your healthcare documents in one place with a single document repository can be a great help with this.
Rather than wrangling binders and risking updating the wrong document, you can make fast changes online. Then, you can re-distribute documents electronically and have your team sign off on them.