While drones come with their own set of risks and privacy issues, they can be immensely helpful in public safety.
Drones in the fire service are far quicker and more cost effective than helicopters or other methods of assessing a scene.
Departments are starting to use them to provide an overview of a fire and improve firefighter accountability on the scene. Some companies are even testing drones for firefighting, equipping the drone with water to extinguish fires that may be hard to reach.
Here are some of the ways departments are using drones in the fire service:
Rapid fireground assessment
In 2015, 24 firefighters died and more than 29,000 firefighters were injured on the scene responding to fires.
Some experts think drones could help reduce firefighter injuries and deaths by providing a complete picture of the fire and structure before firefighters enter the scene.
Fire service drones can help commanders quickly analyze the scene of fires or emergency events.
With cameras and thermal imaging technology, they can transmit footage and data straight to the command center as well as onboard computers and mobile devices.
Otto Drozd III, Chief of Orange County Fire Rescue, told the Orlando Sentinel that he hopes to use drones to identify the hottest areas of the fire to help inform the best strategy to fight the flames.
His department is preparing to use drones that employ technology such as infrared cameras and portable defibrillators.
"All of these take the firefighters out of harm's way and put the drone in the position to give us the operational intelligence we need to get when we're on scene," Drozd said.
Search and rescue operations
Drones can quickly cover a lot of ground and reach areas that may be difficult for firefighters to get to.
They can even carry items such as water bottles, life jackets, or food packets. This can make them helpful for search and rescue missions.
It's unclear exactly how many fire departments are currently using drones for search and rescue missions. But some departments are teaming up with citizen volunteers to use drones in emergency situations.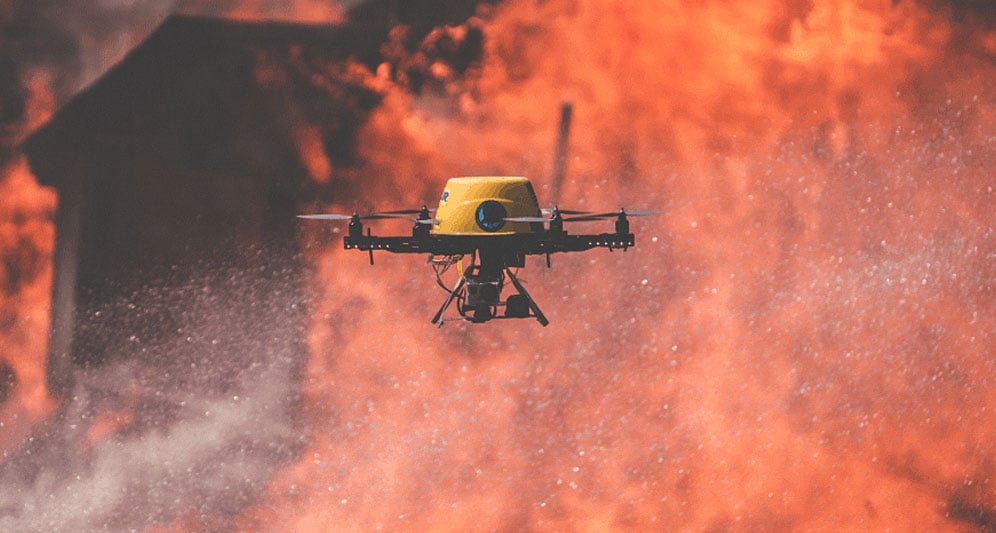 Indiana's Department of Natural Resources is using drones to find and help people who are lost or injured in the wilderness.
"You could be saving a life just by the minutes it's going to be saving an officer or their equipment to get to that certain area," DNR spokesman Rod Clear told Marketplace.
Safely assess hazardous material incidents
Along with assessing the scene of a fire, drones in the fire service can also help firefighters locate and analyze hazardous materials before sending personnel to the scene.
The West Memphis Fire Department recently purchased a drone to help with hazmat incidents. The decision came after an incident where a truck spilled poisonous material.
The department had to call in extra personnel to address the issue. Department leaders estimated that using a drone would have saved them time, manpower, and about $1,000 in overtime costs.
"Where it took us an hour to make an entry, we could've done it in 10 minutes with less manpower and less risk to our guys," Assistant Chief Jeff Jones told a local news station.
Observation and assessment of training activities
Drones in the fire service can also help with firefighter training.
Drones can help commanders observe movements during training and get a different perspective.
Having a bird's eye view of training activities can help fire departments improve training to make fireground operations more efficient.