The federal government offers one example of how costly printing can get. Each year, federal agencies spend more than $2.5 billion on printing costs. And as of 2011, the Government Printing Office spent more than $28 million annually to print copies of the Congressional Record.
While your local agency likely consumes far less paper, the impact is still there.
Printing documents like internal memos, policies and procedures, forms, information packets for commission meetings, and employee files can add up quickly.
Financial costs of paper
Though cost varies by industry, experts say the average employee uses 10,000 sheets of paper annually.
With printing and paper costs alone, that amounts to $800 each year for each employee's printing. One big problem with spending so much on printing is how quickly printed materials become irrelevant.
U.S. companies spend more than $120 billion per year on printed forms, which typically become outdated within three months.
But keep in mind that printing costs aren't just about paper. These costs also include paper file storage, ink, equipment, and repairs to machines.
By opting for a paperless government, you can not only drastically reduce costs but increase efficiency.
Environmental cost of paper
Of course, constantly printing takes a huge toll on the environment, which has negative long-term effects.
Did you know that it takes about 24 trees to produce one ton of paper? Since one tree produces just over 8,000 sheets of paper, that means each employee consumes about 1.2 trees a year.
So much paper use can contribute to deforestation, which can affect climate change and destroy many animal habitats.
At PowerDMS, we believe that technology provides a solution to the problem of paper. Our cloud-based software gives you a secure, easy-to-use system for hosting, editing, and distributing your most important documents.
That's one way our customers have saved more than 833 million sheets of papers with our software – which amounts to more than 100,000 trees.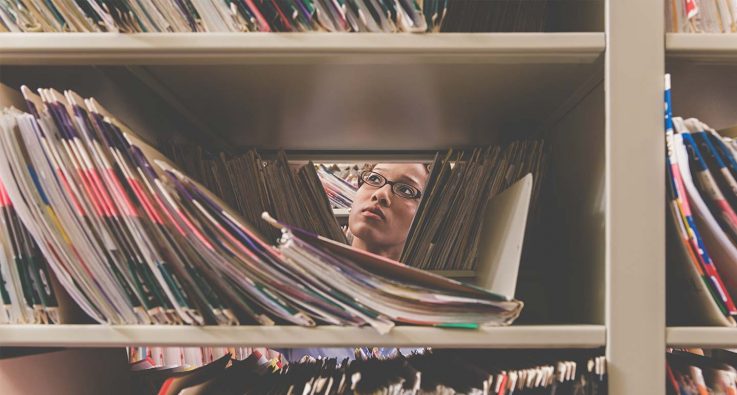 Hidden costs of paper
You already know that budgeting for printing can get costly. But it's also important to consider the hidden costs of a paper-driven office.
For one thing, making sure everything is in the right hands at the right time takes up valuable time. Depending on printing and manually distributing materials also means information can easily get lost, which eats up even more time and energy.
There's also the time you'll spend tracking signatures on policies and forms, and re-distributing forms and policies for signatures after you update them.
With the traditional file cabinet route, employees will spend a lot of time searching or information they need to do their jobs.
According to an IDC report, the average employee spends about 30% of their work time searching for information. In a high-stakes environment like a local government, that's too much time wasted.
While these financial and time costs may seem small at the moment, they add up in the long haul.
Fortunately, there's a more efficient way to handle your local government documents throughout their life cycle.
Here are a few simple ways to conserve resources in the office as you work toward paperless document management.
Start where you can
All of the costs and hidden impacts connected to paper processes can seem overwhelming. But remember that no organization is perfect. It's not realistic to expect a 180-degree turnaround overnight.
The most important thing is that you're considering the impact and taking steps toward greater efficiency. To get started, choose one area to focus on.
Look around your department or at your processes. What processes can be digitized? From a digital process for meeting notes and agendas to going paperless for all your department's forms, small steps can make a big impact.
If you are a leader in your organization, you can take larger steps as time goes on, like bringing all your policies and procedures online. Keep in mind that internal processes like memos and policies may be easier to implement more quickly than documents that involve the public.
Choosing a paperless document management software is a great place to begin if you're ready to take your internal documents online.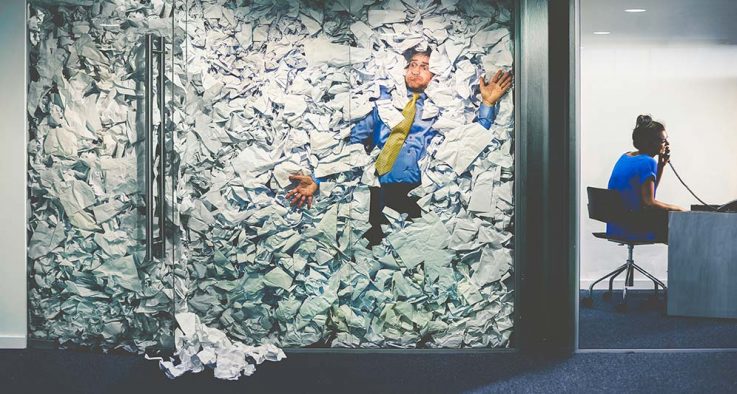 Get others involved
Once you take some small steps toward becoming a green government, you can build momentum within your organization. Small successes with tangible impact in your department may inspire other departments to go digital, too.
To build momentum toward a totally paperless government, share successes with your team.
Calculate and document savings from making the switch, including how much time is saved with your digital processes.
Even if you've just saved time and hassle, you still have a compelling case for a paperless initiative in your municipal government.
Find the right tool for the job
It's easy to look for an all-in-one solution that will become the digital answer to every paper problem. But finding the right tool will make your life and work easier. Learn more about policy management for municipalities here.
As you know, managing sensitive, dynamic documents is a big part of local government operations. That's why a digital tool for taking notes or project collaboration may not be the best option.
If you need functionalities like high security or tracking signatures, for example, a cloud-based document management tool like PowerDMS is a safer, more effective choice.
There are many steps to creating and managing local government documents. A document management software like PowerDMS has all the functionalities needed to help you throughout the process.
Unlike more basic tools like Google Drive, PowerDMS allows you to securely collaborate as you create the documents crucial to your organization. You can also easily edit and update documents without confusion, ensuring you have records of every version as you go.
PowerDMS also makes distributing documents easier, from making your materials easily accessible online to ensuring everyone signs off on the most recent version of your documents.
With PowerDMS, you can also train and test your employees on policies and procedures, which can support efficiency and compliance across your organization.
Implement paperless training
If you are aiming for a paperless government, you need to inform your team on best practices. This is where paperless training comes in.
In some cases, this might be a formal group training. In other scenarios, it may be more effective to work one-on-one with departments in your office.
No matter the route you take, your goal should be to highlight process changes that could reduce your agency's reliance on paper.
Making your all of your employee training paperless is another way to move toward a green office. Stop printing out handouts and agendas and instead move toward an online training management platform that compiles everything you need in one place.
A training management software like PowerDMS allows you to record and distribute trainings online. This means employees in different offices or working on different shifts can view the training online instead of having to schedule multiple in-person trainings, which cost more money and are disruptive to their work.
Both training your employees on paperless policies and going paperless in training will get employees used to using technology as a replacement. It also gives you an opportunity to lead by example when it comes to implementing digital processes.
Make it a city-wide priority
Once your team is on the same page about the importance of going paperless, it's time to make it a priority across your city.
A go green effort can often lead to good publicity among your citizens. It can also build trust both internally and externally, since process reviews can often reveal other speed bumps and frustrations that can be corrected or rerouted.
Of course, this effort will take more time. But as you build the momentum and successes of small to medium-sized projects, you can go after this larger goal of becoming fully paperless.
No matter where you are in the process of becoming a paperless government, it's never too late to begin. A paperless document management software is a great first step.
By bringing all your documents online, you can not only save money, but impact the environment, save time and energy, and ultimately, become more efficient and effective as an organization.