Why not request time off, submit your overtime hours, or sign up for open shifts from your mobile device? Have visibility of the schedule from wherever you are? Get updates about changes made to your shifts? Check how much time off you have left? Get access to all these things with the law enforcement personnel scheduling app, PowerTime.
What is the PowerTime Mobile App?
The PowerTime Mobile App is a mobile application that allows law enforcement professionals to log on and view their schedules, request time off, submit overtime hours, bid on open shifts, and request shift trades. All the features displayed for the PowerTime software are included in the mobile application. There are a few differences that we will discuss later in this article but the Mobile App allows you to easily make schedule updates on the go.
Before using scheduling software, many departments use paper schedules or Excel Spreadsheets to manage patrol schedules. While this accounts for the actual creating and recording of the schedule, it makes it difficult to notify officers of any changes. Also, when making changes, there is no real audit trail to go back and see who made what changes. Typically time off and overtime are handled separately from the schedule. All around the process becomes very tedious and time consuming.
PowerTime is a scheduling system built specifically for law enforcement agencies to make scheduling personnel and scheduling related tasks much more efficient. Additionally, since it is web-based, officers can access their schedule from wherever they are. This keeps communication flowing and everyone on the same page to reduce scheduling errors.
Who is this app made for? Why?
The PowerTime Mobile App is primarily for public safety professionals. This is because the system was built to handle complex 24-hour schedules that typical 9-5 businesses do not have to deal with. It also includes unique features like court appearances, vehicle checklists, and certifications. There are many systems out there for restaurants, warehouses, retail stores, etc. Yet, there are few that handle 24-hour schedules the correct way while also including the unique features to make the whole scheduling process for public safety organizations easier.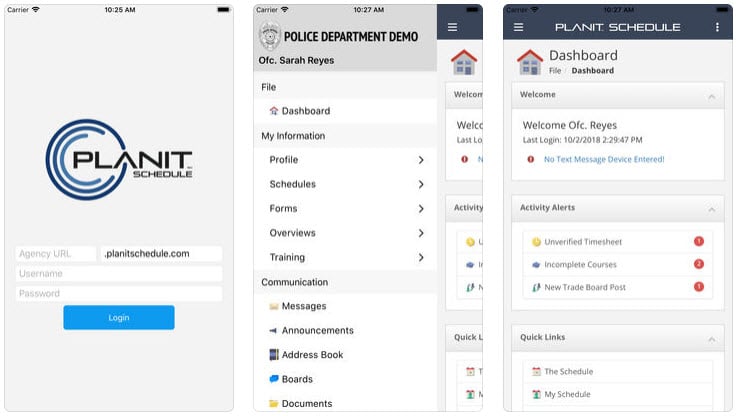 Why create an app?
Originally, the system was accessible from any device with a browser. While this worked, it had a few downfalls that only creating an app could achieve. Creating an app:
Eliminates logging in every time you open the system.
Makes the system easier to use on mobile devices.
Allows the system to send out push notifications.
Was heavily requested by our clients.
What is the difference between the web app and the mobile app?
Web Scheduling App:
Open from a browser like Chrome, Internet Explorer, Firefox, Safari, etc.
Log in each time you open it
Only have option of email, text, or PowerTime Message notifications
Mobile Scheduling App:
Download from Google Play Store or App Store and open from mobile device home screen
Log in once and each time you open it back up you will already be logged in
Have the option to receive push notifications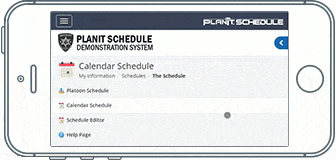 How Much Does it Cost?
Technically it is free to download. But you cannot use it without a login which requires an annual subscription. It costs no extra to use the mobile application once you have a PowerTime subscription.
Where can I get this officer scheduling app?
Depending on what kind of device you have, it will be accessible from different places. If you have an Android, you can access it from the Google Play store. If you have an iPhone you can download it from the App Store.
Want to learn more about how this tool can help your agency with personnel scheduling? Click the link below!