Orlando, Fla. – May 18, 2020 – PowerDMS, a leader in cloud-based crucial information management technology, was today named the winner of a Silver Stevie® Award for Customer Service Team of the Year in The 18th Annual American Business Awards®.
"2019 was a remarkable year for PowerDMS, and we are honored to be recognized for our many achievements," said David DiGiacomo, CEO of PowerDMS. "Our customer-first philosophy is at the heart of who we are as a company. This win is a testament to our team's dedication to continuously providing top-notch customer service every day."
In 2019, PowerDMS introduced several new programs, including its annual Entrust user conference, virtual online education platform PowerDMS University, and advanced PowerDMS Certified Professionals program. Additionally, its dedicated customer service team achieved a 96.5% Customer Satisfaction Rating for Support, and now delivers support across three channels (Chat, Phone, Email) for a total of 11,000 contacts with an abandon rate of six percent. The team's comprehensive customer service program has earned it an outstanding Net Promoter Score (NPS) for the year of 62.
As one judge noted, "Great customer service starts with a highly engaged team and based on employee satisfaction scores, low attrition, and the results the team is delivering it is obvious the PowerDMS team is inspired and engaged."
"Despite the toughest business conditions in memory, American organizations continue to demonstrate their commitment to innovation, creativity, and bottom-line results," said Stevie Awards president Maggie Gallagher. "This year's Stevie-winning nominations are full of inspiring stories of persistence, ingenuity, resourcefulness, and compassion. We celebrate all of their stories and look forward to showcasing them during our virtual awards ceremony on August 5."
Details about The American Business Awards and the list of 2020 Stevie winners are available at StevieAwards.com/ABA.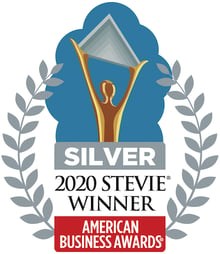 ---
About PowerDMS
Founded in 2001, PowerDMS offers a cloud-based policy, compliance, accreditation management solution that helps organizations reduce risk and liability, protect reputation, increase efficiency, and save lives. The company provides software tools to organize and manage an organization's critical documents and industry accreditation standards, and allows for training and testing of employees. PowerDMS serves customers in the private sector, public safety, government, and healthcare and has achieved significant organic growth in these markets.
About the Stevie Awards
Stevie Awards are conferred in eight programs: the Asia-Pacific Stevie Awards, the German Stevie Awards, the Middle East Stevie Awards, The American Business Awards®, The International Business Awards®, the Stevie Awards for Women in Business, the Stevie Awards for Great Employers, and the Stevie Awards for Sales & Customer Service. Stevie Awards competitions receive more than 12,000 entries each year from organizations in more than 70 nations. Honoring organizations of all types and sizes and the people behind them, the Stevies recognize outstanding performances in the workplace worldwide. Learn more about the Stevie Awards at StevieAwards.com.
Sponsors of The 2020 American Business Awards include John Hancock Financial Services, Melissa Sones Consulting, and SoftPro.