Orlando, Fla. – January 6, 2021 – PowerDMS, a leader in cloud-based compliance software that helps customers simplify how they create, track, and attest to policies, training, and industry standards, today announced it won two 2021 Best Feature Set Awards from TrustRadius, a top-rated review site for business technology.
TrustRadius awards highlight companies with outstanding feature sets that have gone above and beyond to improve the customer experience. PowerDMS has taken several steps to enhance its customer service, including introducing a virtual online education platform, PowerDMS University, and an advanced PowerDMS Certified Professionals program.
"PowerDMS earned a 'Best Of' award from TrustRadius for support and feature set based directly on feedback from customers," said Megan Headley, VP of Research at TrustRadius. "Reviewers highlight the product's support for conducting training, managing documents, as well as it's easy to use and robust search feature."
The Best Feature Set Awards are given to organizations which have received 10 TrustRadius reviews in the past year that featured specific mention of their product's feature set. Winners also had to rank in the top three positions of their category in terms of what percentage of positive responses they earned this year. Additional vetting via textual review analysis was also performed by the TrustRadius research team.
"We feel very fortunate to be recognized with these incredible awards," said David DiGiacomo, CEO of PowerDMS. "Our customer-first philosophy is at the heart of who we are as a company. To receive direct feedback from and be valued by our user community is extremely meaningful and a testament to our team's dedication to continuously providing top-notch customer service every day."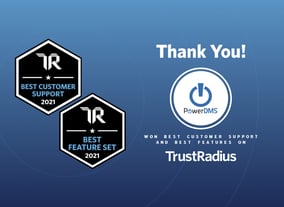 About PowerDMS
Founded in 2001, PowerDMS offers a cloud-based compliance management platform that helps users reduce risk and liability, protect reputation, increase efficiency, and save lives. The company provides software tools to organize and manage an organization's critical documents and industry accreditation standards and allows for training and testing of employees. Most of the over 4,000 PowerDMS customers represent high-risk industries with compliance requirements in the healthcare, government, and commercial sectors.
About TrustRadius
TrustRadius helps technology buyers make better decisions and helps vendors tell their unique story, improve conversion, engage high-intent buyers, and gain customer insights. Each month over 1 million B2B technology buyers, over 50% from large enterprises, use verified reviews and ratings on TrustRadius.com to make informed purchasing decisions. Headquartered in Austin, TX, TrustRadius was founded by successful entrepreneurs and is backed by Mayfield Fund, LiveOak Venture Partners and Next Coast Ventures.