The first step of crafting policy and training content is to gather notes, resources, and ideas. This may involve getting input from subject matter experts, legal counsel, or other organizations.
The process may also include meetings with a policy review committee.
It can be hard to keep track of all the different ideas as you're brainstorming and collaborating with so many people.
These policy-writing tools can help you stay organized:
Coggle
Coggle is a free mind-mapping tool that allows you to quickly jot down all of your ideas for a new policy or piece of training content. You can create clutter-free notes and diagrams to track related ideas.
Coggle lets multiple users collaborate, comment, and chat within a document. Collaborators can add text, links, images, and more, and rearrange information using simple drag-and-drop tools.
If you're a visual thinker, doing a brain dump inside a mind-mapping software can help you start to form connections between abstract ideas.
Once you've finished making your connections, it's easy to copy your "nodes" and paste them into PowerDMS or another text editor. Coggle will automatically format your ideas as an outline for easy editing.
Evernote
Evernote is a staple in the professional life of many as a sort of second brain. It can help you keep track of and quickly sort through lots of different notes and ideas.
With Evernote, you can make a to-do list, jot down notes, or even take a picture of handwritten notes or sketches.
Evernote lets you tag notes for quick organization. And it lets you search for keywords, even searching through handwritten words.
You can use Evernote to keep track of important information from brainstorming sessions. Assign one person in the meeting to take notes, record audio, and take pictures of whiteboards and meeting documents.
Then create a shared "notebook" on Evernote for everyone to review as needed.
Plus, Evernote's mobile app lets you access all your notes on the go. You can store all your ideas on the app and use them later to flesh out policy or training ideas.
PowerDMS workflows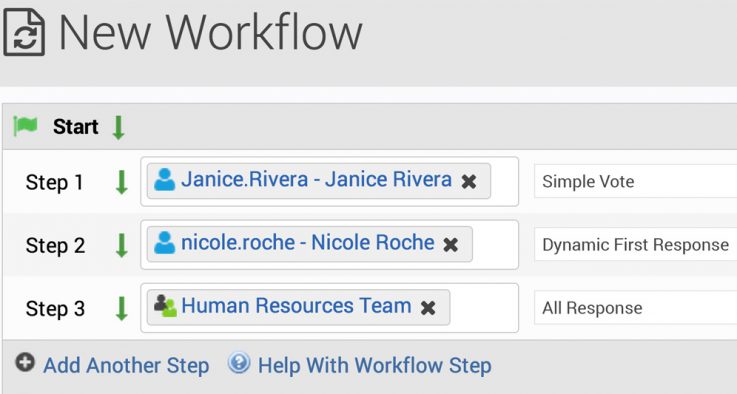 PowerDMS workflows are the best way to collaborate and gain buy-in from staff for documents.
Workflows simplify collaborations by allowing you to automatically send a document up the chain of command for edits and approvals.
Instead of gathering multiple versions of a document with notes from each person, PowerDMS collects all the changes in one place and ensures everyone is working on the same document.
When you set up a workflow, PowerDMS alerts the first person via email. Once that person has added their notes and approved the document, the document is automatically sent to the next person in the workflow.
PowerDMS gives administrators complete version control, tracking who made each change and when. It even lets administrators save a workflow to use again for other documents.
Tools for writing policy and training content
In order for employees to comply with policy, they need to be able to understand their employee manual and training. Many policy and procedure manuals tend to use overly formal, confusing language.
Policy and training content that uses legalese, unexplained industry jargon, or overly complex sentence structures may leave new employees confused.
Our Policy Summit Panel of experts says policies are often ineffective due to "lack of clarity and structure when it comes to key guiding principles."
Your employees won't be able to meet expectations if they can't understand them. The best way to ensure employee understanding and buy-in is by crafting policies that are simple, concise, and well-worded.
These policy-writing tools can help you write the best possible content.
Hemingway App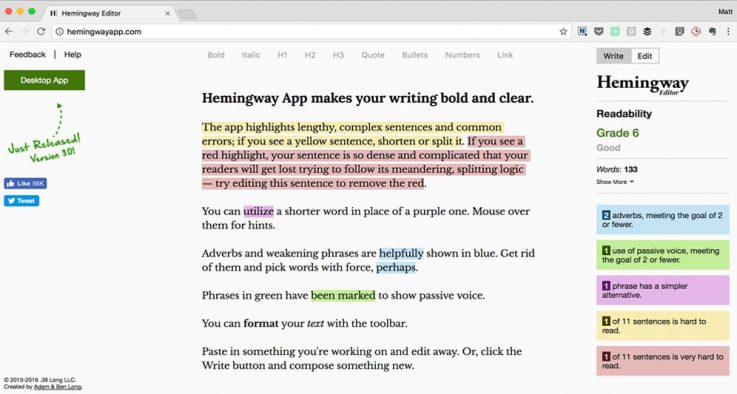 Good policy and training material keeps things simple. There's no better way to confuse your staff than to write procedures with unending run-on sentences or complex language.
The Hemingway App helps you shorten sentences and simplify language to make policy and training content easier to understand. You can paste and edit your content into the website or desktop app.
The app highlights long sentences, confusing words, passive voice, and other common errors. Addressing the highlighted sections can make your policy and training content easier to read and understand.
Try the Hemingway App for free.
Grammarly

When you're focusing on creating solid content for policy and training, grammar is the last thing you want to worry about. Grammarly helps you find and correct hundreds of complex spelling, grammar, and punctuation errors.
This helps you ensure that employees focus on the substance of the content instead of getting hung up on the details.
Grammarly has a free browser extension that can help you catch mistakes anywhere you are writing online. It flags errors and lets you correct them with a single click.
PowerDMS document management tools
PowerDMS comes with built-in integration to Microsoft Office, so starting a new policy is as easy as opening a new Word document. It lets you use the formatting options you're familiar with instead of having to master a new format as you write.
PowerDMS's policy management software also helps you easily distribute policies and training to employees. Even the best-written policy and training material won't do you any good if your employees never see it.
With PowerDMS, you can send out policy updates or training modules to every one of your employees with the click of a button.
You can highlight the updated sections of policy, assign quizzes to make sure employees understand training content, and track signatures.
Tools for finding imagery
Especially in training content, including visuals can be extremely helpful. Pictures, videos, and infographics can help employees better retain material.
In some cases, it's much easier to explain a process visually than through words.
Here are some policy and training tools that can help you find or create stunning visuals for your content.
PowerPoint or Google Slides
PowerPoint is a tried and true way to create engaging content. You can use slide templates to create great-looking presentations on essential areas of policy and training.
PowerPoint and Google Slides give you control over fonts, pictures, tables, transitions, animations, and more. You can even include speaker notes with extra content.
Including these sorts of visuals helps keep employees engaged in training and helps the information stick.
Nimbus Screenshot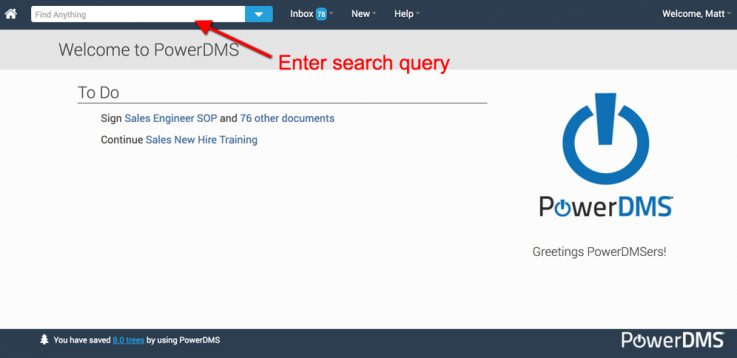 It's often helpful to create screenshots to show step-by-step walkthroughs of how to use certain systems in your organization.
Nimbus Screenshot is a free screenshot tool that lets you take screenshots of your desktop with a few clicks of the mouse. The free browser plugin lets you create images of a full web page or any part.
You can also easily edit or annotate screenshots with the built-in annotation tool.
Nimbus Screenshot also lets you record video from your computer screen. This can be extremely helpful for recording webinars or online events to use in training content.
Try Nimbus Screenshot for free.
The Atlas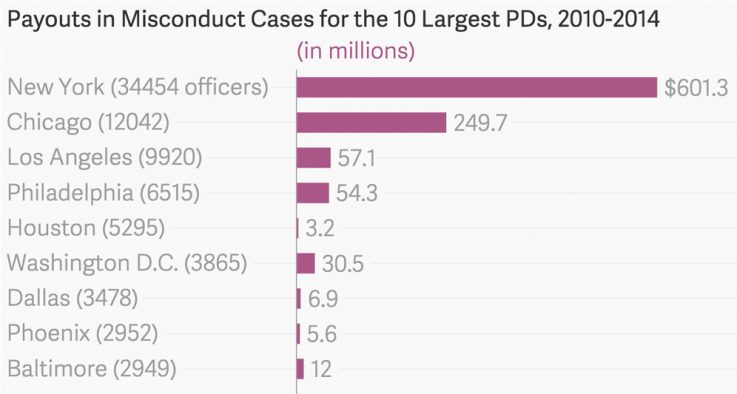 The Atlas is a resource for charts and data. Find or create charts to give your employees a visual representation of a certain issue. Including charts in your policy content can help your employees understand why a particular policy is important.
The chart below was found by simply entering "police" in the search menu.
PowerDMS
PowerDMS makes it easy to upload your critical content and send them out for approval. It provides a centralized location for all your PowerPoint presentations, forms, policies, and other important documents.
With PowerDMS, employees can access policy materials from any device in any location.
Organizational leaders can create fully customized online courses for employees to complete at their own pace. They can track employee engagement and create tests to ensure comprehension.
Well-crafted and engaging content will help your employees understand expectations and do their jobs well.
These policy and training tools can take your content from good to great, making sure employees have the information they need to keep your organization running smoothly.
Learn more about writing effective policies and procedures in this comprehensive article.