Article highlights
Employee training programs aren't just one of those things that are nice to have, they're the table stakes for any company that wants to increase their productivity, improve their efficiency, and outperform their competition.
An online training software solution can play a major role in making all of that happen.
Employees who receive training, and more specifically use training management solutions, are able to train in their own time, take 40–60 percent less time than in the classroom, and are more satisfied with their company. Further studies have found that online training can increase productivity, which increases company revenue.
Good training also helps you attract and retain good employees. Not only that, you can use it to turn your above-average employees into superstars, and your average employees into above-average ones. An effective online training program can create a building filled with high performers in less time than it would take to find and hire them all.
A good training management solution will help you create, deliver, and track employee training. And if you tie it into your policy and accreditation management solutions, you'll be firing on all cylinders.
Online training software from PowerDMS lets you create customized content that fits the exact requirements of your organization and its particular regulatory and compliance needs. Plus, it automatically tracks online employee training hours, giving you a full picture of training across your organization.
But not all online training software is created equal (or equally). Finding training management software that fits all of your organization's needs can be pretty daunting.
Here are a few things to consider when looking for the best online training software.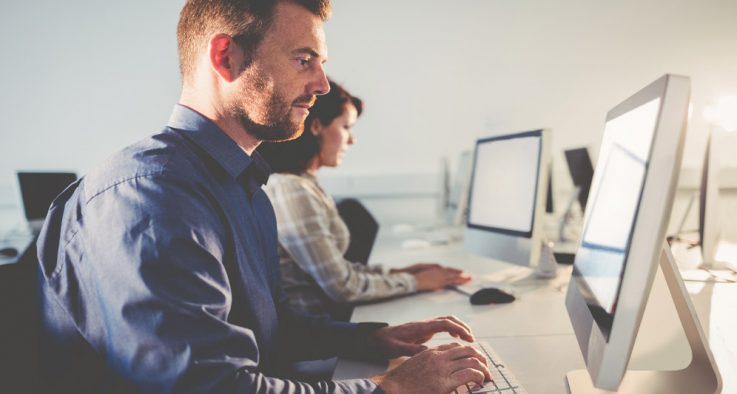 Understand your use case
Before rushing out and buying the first online training software you can, you need to think through what your organization's employees actually need. Talk to some of the key stakeholders to brainstorm the why, how, and what behind your current online training offerings. If you don't have an online training solution, create a list of your non-negotiables and your nice-to-haves.
Ask what's working and what's not with your current training. What issues do you need to resolve or address? What features do you want your online training software to have?
Figuring out your expectations and priorities upfront will help you effectively weigh your options and make the best choice.
Here are a few things to think through in considering how you will use the online training software:
Your audience
As always with any new technology, your first step is to think about the end-user. Find the answers to these questions:
How many employees will be using the software?
What are the demographics and work culture of your organization?
How comfortable are your employees with using online tools?
What kinds of training are your employees used to? Classroom, textbook, one-on-one?
What are some of the different learning styles you've seen in your employees?
Training and development should be tailored to the employees involved. We've learned over the years that people have different learning styles and we learn at different speeds and with different senses. So your online training software should be easy to use and lets you upload custom content that can easily be tailored to different learning styles.
As the Training: One Size Doesn't Fit All article in HR Daily Advisor points out:
Learning and development is ultimately about ensuring the best fit for the individual, and when your training doesn't differentiate or allow for different learning styles, results are going to suffer. To maximize return on investment (ROI), personal development, and worker satisfaction, learning leaders and managers must tailor professional development efforts to maximize the potential of each individual.
Your training materials
Launching a new digital training management system doesn't mean you have to start everything from scratch or reinvent the wheel. Look at the training content you already have, including PowerPoint slide decks, videos, recorded lectures, and the policies and procedures you already have in place.
If you don't have training content already, several training management solutions already have prepackaged training materials, including for healthcare, law enforcement, and other regulated industries.
Of course, creating your own training content is far more effective, because no one knows better what your organization needs than the people in it. Creating your own training content makes it more engaging and it's already tailored to your corporate culture and the needs of the organization. That helps your employees engage with the training more, and they can see how it applies to their daily work.
With training management software like PowerDMS, you can easily create your own content, as well as import pre-existing content, or even integrate third-party training content subscriptions.
Your grading and tracking requirements
Most digital training management systems already automatically track the training your employees complete through the software. But, depending on the industry you're in, you may also need to track external training.
For example, many of your staff may have to complete continuing education units (CEUs), attend conferences for specialized training, or complete a certain number of courses to maintain their certification or license.
Your online training software should be able to track all of that training in one place as well, preferably letting your employees input their own training hours, rather than letting all that fall to the L&D managers.
You should also be able to test your employees' understanding of what they've been learning, such as with a short quiz after each course. Or you can create certificates to reward individuals for completing a course and earning certain grades.
Also, it's a good idea not just to track hours, but also to test employees to make sure they understand the training content. This may be as simple as distributing a short quiz after each course. According to a 2016 Gallup study, recognizing top performers is another way to keep your top employees.
So make sure your online training software includes the tracking and testing tools you need to measure the effectiveness of your training and ensure employees understand what they've learned.
Your IT resources
Your IT capabilities will determine whether you should use a self-hosted or cloud-based training system.
Self-hosted training management software gives you more control over the setup, but you have to maintain your own servers, keep the operating software up to date, and manage the security for the server. That can get very expensive, time-consuming, and may even require additional IT staff.
A cloud-based system doesn't require any of that: the host manages the security, the software updates and patches, and they have the IT staff already in place to keep everything running. You can expand your cloud server space with the click of a mouse and for a fraction of the cost.
At PowerDMS, we handle all of the tracking, updates, and digital infrastructure to the software as well. So no downloading patches or running updates on your own. That's all handled for you.

Other factors to consider
After your audience, content, and IT resources have been determined, there are a few additional factors to consider.
Budget
According to Training Magazine, training can be one of the biggest line items in an organization's budget. Companies with 10,000+ employees usually spend about $13 million on training each year; small organizations (<1,000 employees) spend around $290,000 annually.
The cost of training management software varies widely – and wildly – depending on the software, the functions, and the number of licenses or "seats." You can pay a flat fee per employee per month, or you could pay per course, or there's just a flat monthly or annual licensing fee.
But as you compare pricing, remember the old adage, you get what you pay for. If you look for a cheap price, you'll get a cheap product. The bigger your budget, the more features you'll get, and the more non-negotiables you'll check off your list.
In the end, the better your training management software, the better the results will be for your employees and your organization.
Ease of use
Training software is supposed to simplify employee training, not make it harder. If people have a hard time using the software, they won't be as effective – or interested in – using it. Enthusiasm will go down, and while people will complete the required courses (with great stress), voluntary participation will drop.
So when you're comparing software options, ask yourself how easy it is to use. Is it intuitive? Will everyone be able to figure out how to use it? How steep is the initial learning curve? Is it simple enough for even the most tech-resistant staff to figure it out?
And how easy is it on the administrative side? Can you create and distribute custom training? Are the tracking tools easy to use? Can you create reports and dashboards?
PowerDMS' training management software lets you easily upload content, manage training materials, and track training all in one place. Admins have complete control over the content, and employees can easily log in to the online training portal to access training materials.
Cross-referencing other content
For many organizations, online training content is supposed to match their internal policies and procedures, but very few training management solutions will actually let you map those policies to your training requirements.
You can manage it if you're able to house all your important policies and documents in one centralized location. PowerDMS has both a training management solution and a policy management solution all stored within the same platform, so you can link your policies to your training content.
Then you're able to show all your results to your accreditation monitors, which saves your HR staff countless hours in trying to track and report everyone's training efforts.
Course surveys and feedback
One of the best ways to measure your online training course's effectiveness is to ask the people who have taken it. Employee surveys and feedback can help improve your online training efforts, as well as measure the overall employee engagement.
You could use an external survey software, or you could just use the same solution that lets you track your training content and data.
With PowerDMS, you can easily attach surveys to the end of online courses in order to evaluate their effectiveness and to find areas of improvement.
When you're ready to pull the trigger
Choosing the right online training software is the first step toward improving employee effectiveness and productivity, and it's the biggest. Keep learning about the most important training software topics here.
Implementing training can take a lot of work on the front end – like any new software launch. But it's a worthwhile investment because the positive results can be felt within the organization for years. You can empower your employees to excellence and peak performance.
PowerDMS can help your organization streamline your training, maintain compliance, and constantly improve training. Schedule a free demo today to see firsthand how we're specialized for your organizational needs.