A 9/80 work schedule may vary slightly depending on the industry and the geographic location. The format we will discuss in this article consists of 5 days on, 3 days off, 4 days on, and 2 days off. While it is a little more complex than other schedules, it can be a great option for small departments. It only requires 6 officers to cover 24/7 for a whole week.
[5 on, 3 off, 4 on, 2 off]
Below you will see 6 templates following the 9/80 work schedule rotation. It consists of 4 consecutive 9 hour shifts, 2 days off, then another 4 consecutive 9 hour shifts, one 8 hour shift, and 3 days off. This is a 2 week rotation. There is some overlap with these templates but this is the best formula we've found for 24/7 coverage with this rotation.
You will need 2 teams or squads to cover 24/7. Each will consist of 3 templates: day shift, mid shift, and night shift.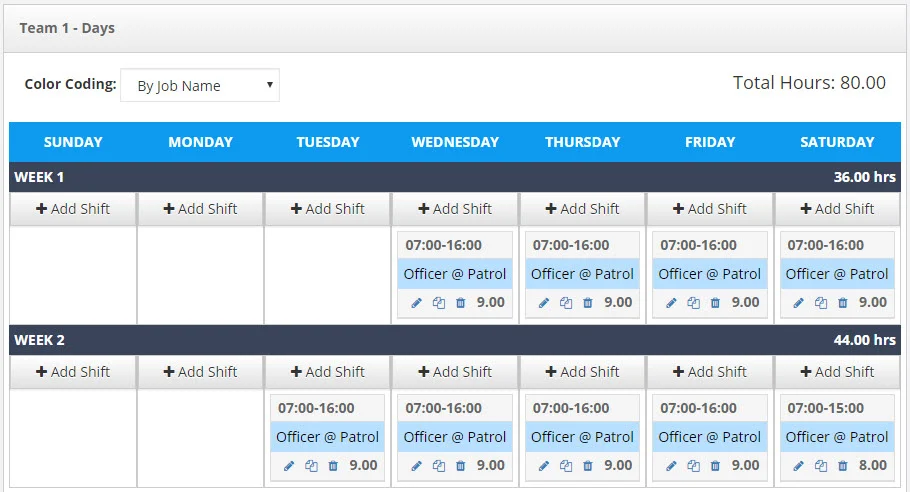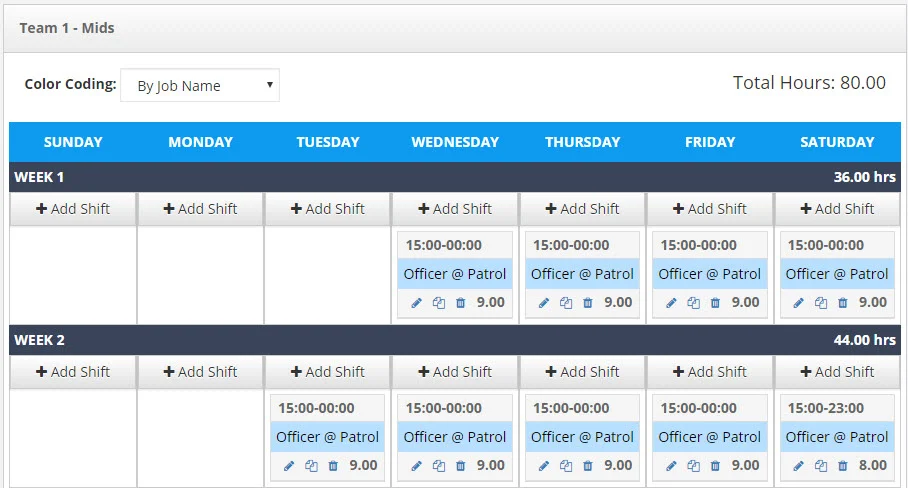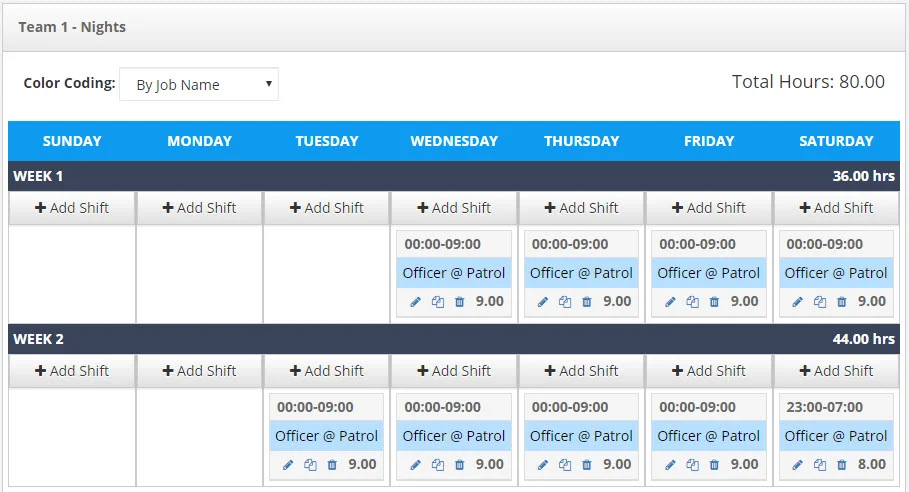 ---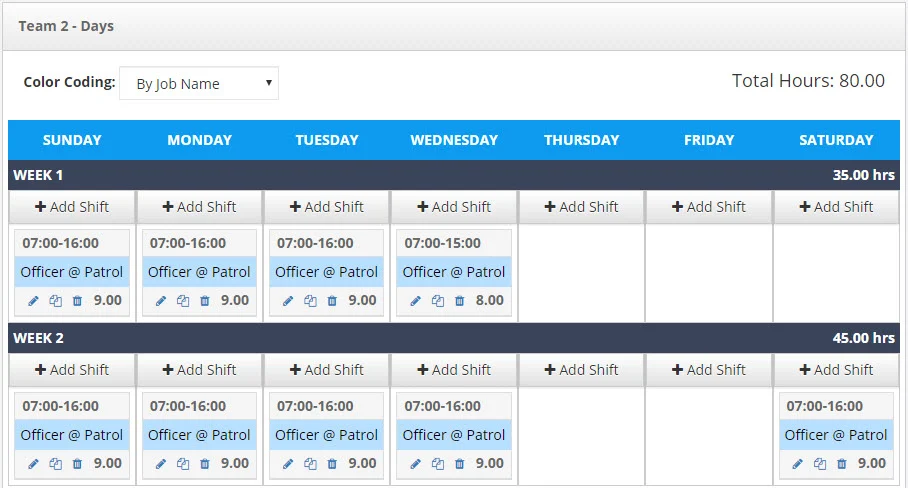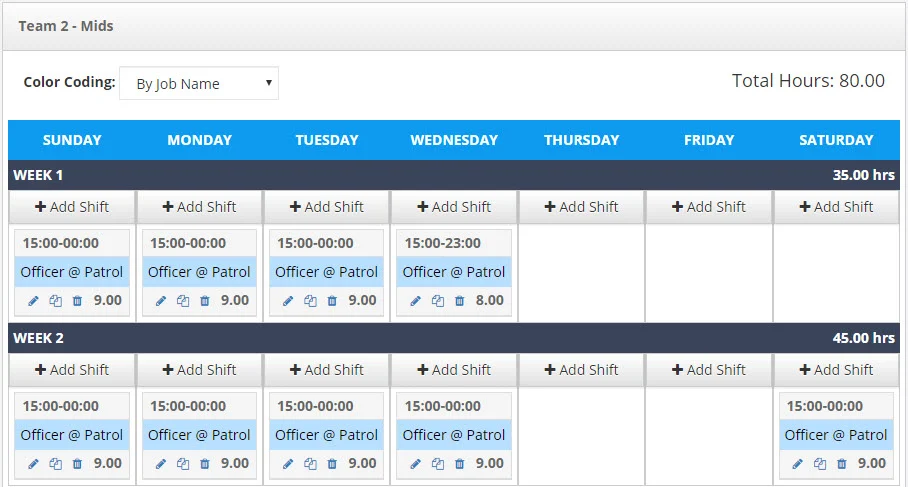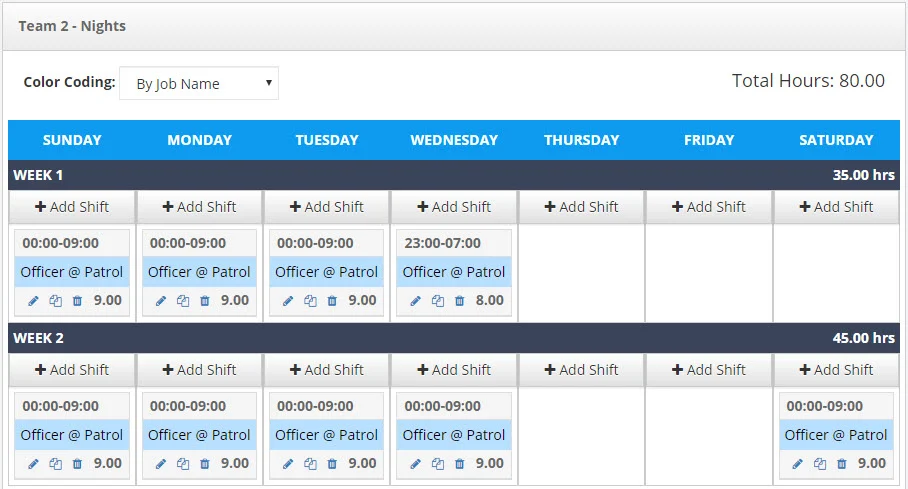 There are different variations of the "9/80" schedule. One variation is to take the last 8 hour shift and split it up into two 4 hour shifts. With public safety we do not think that is the most effective method, but that all depends on your departments' needs. You can also change up the templates you use. These two "team" templates I chose were to ensure all hours of each day were covered. You can download the entire explanation of this schedule to learn about the different variations and piece together the perfect fit for your department.
Pros:
Better work-life balance
5 days off within the 2 week period
Manageable shift length
3 day weekends with certain templates
Cons:
Four 9 hour days + one 8 hour day may cause fatigue
Working weekends
Overlapping shifts
If you need software to handle this schedule or any other 24/7 schedule, check out PowerTime. The software will help manage regular personnel schedules, time off, overtime and extra duty, call offs, and much more. Click the button below to learn more!