An effective employee training program is an essential part of successful operations for any organization.
Ongoing employee training helps your organization maintain compliance, operate efficiently, and foster a healthy, professional workplace culture. Good training also helps you attract and retain good employees. Studies show that effective training increases job satisfaction.
Online training software makes it easy to create, deliver, and track employee training.
A good training management software lets employees complete training on their own time. According to a study by Brandon-Hall, online employee training takes 40 to 60 percent less time than learning the same things in a classroom. Other studies found that online training increased productivity and led to increased revenue.
Online training software like PowerDMS lets you create customized content that fits the needs of your organization. Plus, it automatically tracks online employee training hours, giving you a full picture of training across your organization.
However, not all online employee training software is created equal. And finding a digital training management system that fits the needs of your organization can feel like a daunting task.
Here are a few ways to find the right online training software for your organization:
Understand Your Use Case
Before you start looking at training management software solutions, take some time to think through your online employee training needs.
Gather some of the key stakeholders to brainstorm the why, how, and what behind your online training and development.
What's working and what's not with your current training? What issues do you want the software to help you address? What online training software features are most important to meet your needs?
Talking through these expectations and priorities up front will help you effectively weigh your options and make a good investment.
Here are a few things to think through in considering how you will use the online employee training software:
Your audience
With any new technology or software, the first step is to think about the end user. A few things to think through:
How many employees will be using the online training software?
What are the demographics and work culture of your organization?
How comfortable are your employees with using online tools?
What kinds of training are your employees used to – classroom, textbook, one-on-one?
What are some of the different learning styles you've seen in your employees?
Employee training and development should be tailored to the particular employees involved. You want to make sure to choose an online training software that is easy to use, and lets you upload custom content that can easily be tailored to different learning styles.
As an article in HR Daily Advisor points out:
Learning and development is ultimately about ensuring the best fit for the individual, and when your training doesn't differentiate or allow for different learning styles, results are going to suffer. To maximize return on investment (ROI), personal development, and worker satisfaction, learning leaders and managers must tailor professional development efforts to maximize the potential of each individual.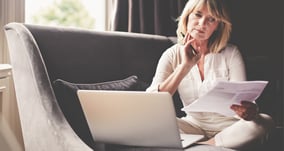 Your training materials
You don't have to start completely from scratch when implementing a digital training management system. Start with looking at the training content you already have. This may include PowerPoint presentations, videos, recorded lectures, and even policies and procedures.
Many online employee training software options offer prepackaged training courses. This can be helpful if you don't have much existing training content.
However, creating your own customized training in-house is far more effective. Creating your own online training content makes it more engaging and tailored to the specific culture and needs of your organization. It helps employees engage with the training and see how it applies to their day-to-day work.
Again, start with the content you already have. Online training material doesn't need to be professionally produced or involve a lot of technical know-how. Often, it's as simple as creating a video of a PowerPoint presentation.
In any case, an online training software like PowerDMS will let you easily create and customize your own content. Even if you do use some prepackaged content, a good training management software will let you add some customized parts to tailor the material to your employees.
Your grading and tracking requirements
Most digital training management systems will automatically track the training hours your employees complete through the software.
However, depending on what industry you are in, you may also need to track external training.
For example, perhaps many of your employees are doing continuing education or attending conferences for specialized training. Or employees may need to complete a certain number of hours or courses to obtain a certification or license.
If this is the case, you may want to look for an online training software that lets you track all your training in one place.
Also, it's a good idea not just to track hours, but also to test employees to make sure they understand training content. This may be as simple as distributing a short quiz after each course.
Or it could even involve creating certificates to reward employees for completing a course and achieving certain grades. A 2016 Gallup study showed that recognizing top performers is another way to retain good employees.
Some training management software, such as PowerDMS, let you create customizable quizzes to attach to the end of training modules. This lets you evaluate how well your employees understand and retain the training.
In any case, make sure to choose an online training software that includes the level of tracking and testing tools you need to prove training, measure the effectiveness of training, and ensure employees comprehend training content.