Issues of sexual harassment seem to crop up regardless of industry. Those involved in scandals include congressmen (Al Franken, John Conyers), entertainers (Kevin Spacey, Matt Lauer), Hollywood Executives (Harvey Weinstein), and more.
No company can afford to ignore the issue of sexual harassment. Sexual harassment in the workplace creates an unsafe and unproductive work environment. It can also put organizations at risk of lawsuits and scandals.
According to several Supreme Court decisions, employers may be held liable for sexual harassment if they don't take steps to prevent harassment.
Ignorance of incidents of harassment is no excuse. Organizations must offer thorough sexual harassment training and have steps in place to address any complaints of harassment.
Fortunately, there are things your organization can do to foster the right culture, train your employees how to handle harassing behavior, and protect the organization from liability.
One of the biggest things you can do is create an effective sexual harassment training program.
Sexual harassment training helps teach employees what behavior is and isn't appropriate in the workplace. It helps foster a professional environment, where employees treat one another with respect.
Workplace harassment training helps prevent incidents that create a hostile work environment. And if an incident does occur, good sexual harassment policy and training ensures a swift and proper response, preventing costly lawsuits and negative public attention.
Here are a few steps your organization can take to develop effective sexual harassment training:
Good training starts with good policy.
Policy formalizes rules and expectations, clearly establishing boundaries and establishing definitions.
Sexual harassment training should be pulled from and tied back to policy. This is not only a good practice, but it also protects your organization from liability.
Written policies prove that your organization put measures in place to prevent harassment and train employees on proper behavior.
There are several areas a solid sexual harassment policy should cover:
Clearly define harassment with direct and specific language
Sexual harassment can be a confusing concept. Employees aren't always clear on what qualifies as sexual harassment. They may be unaware that their behavior is inappropriate or is making a coworker uncomfortable.
A good sexual harassment policy will clearly define sexual harassment. Make sure the language is specific and easy to understand. This will make the policy less ambiguous and easier to enforce.
The Equal Employment Opportunity Commission (EEOC) defines sexual harassment as, "unwelcome sexual advances, requests for sexual favors, and other verbal or physical harassment of a sexual nature."
Use specific examples of prohibited conduct
Along with defining terms, good sexual harassment training content and policy will give examples of what is and is not sexual harassment. This will help employees know how to spot and prevent harassment.
There are some obvious forms of sexual harassment, such as a supervisor requesting sexual favors in exchange for a promotion. But many are more subtle, such as inappropriate jokes or noises, or even repeated, unwelcome requests for a date. Employees at any level and of any gender can be victims or harassers.
Effective sexual harassment training and policy uses various examples and scenarios that are relevant to your work environment.
You can't fit every scenario into your policy, but providing examples helps bring clarity and specificity to the policy.
Plus, talking openly about issues of sexual harassment sets the expectation of clear and honest communication.
If employees feel a co-worker's actions are making them uncomfortable, they will feel empowered to speak up. And when employees and supervisors have seen examples of sexual harassment, they can recognize it and take steps to address the behavior before things escalate.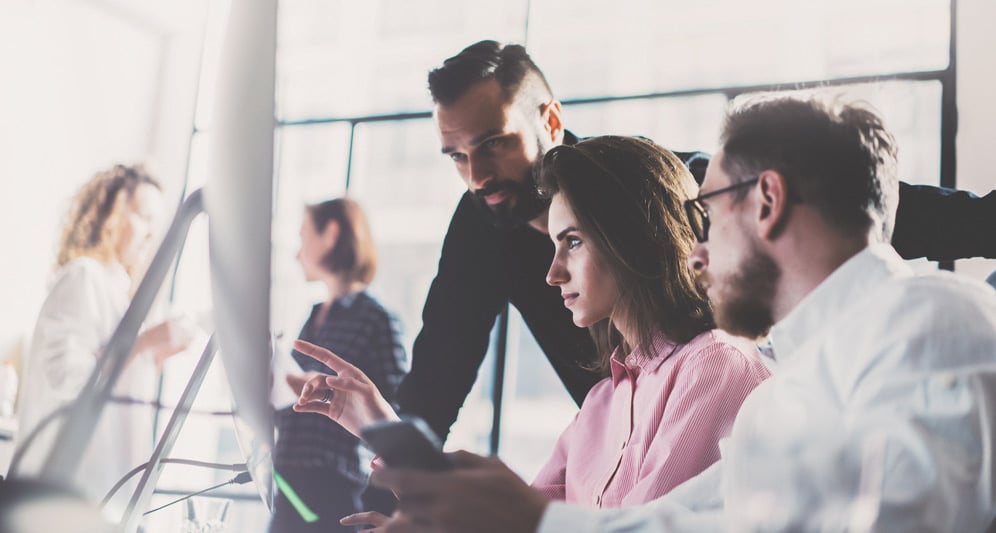 Follow EEOC guidelines as well as state-specific regulations
The Supreme Court has ruled that sexual harassment is a type of sex discrimination that is illegal under the Civil Rights Act of 1964.
EEOC guidelines outline two types of sexual harassment. The first is "quid pro quo," which occurs when "submission to or rejection of such conduct by an individual is used as the basis for employment decisions affecting such individual."
The second is behavior that creates a "hostile work environment" that makes a worker feel intimidated and interferes with their work.
The EEOC encourages employers to take steps to prevent sexual harassment. According to the guidelines,
An effective preventive program should include an explicit policy against sexual harassment that is clearly and regularly communicated to employees and effectively implemented. The employer should affirmatively raise the subject with all supervisory and non- supervisory employees, express strong disapproval, and explain the sanctions for harassment.
Along with the EEOC guidelines and federal employment laws, make sure to look at your state and local laws when creating policy. Some states require employers to offer annual or semi-annual anti-discrimination training, which includes sexual harassment training.
Enact a clear complaint process
In order to prevent and address sexual harassment in the workplace, organizations must lay out the actions they will take in the event of an incident.
A large part of this is a clear process for complaints and investigations. The policy should provide step-by-step guidelines for employees to follow if they feel they are being harassed, or if they spot a fellow worker being harassed.
There needs to be a safe way for employees to make complaints that are taken seriously. The policy should include a few different options for who the employee can report to in case they don't feel comfortable reporting to their supervisor.
The policy should also include transparent steps for what will happen to resolve the complaint.
How will your organization investigate the claims? What disciplinary measures will you take in the event of harassment? Laying this out in policy shows that your organization takes harassment seriously.
Your sexual harassment policy should also prohibit retaliation for someone making a harassment complaint. Employees need to feel safe to report incidents without fearing that they will lose their job or be otherwise punished.
Confidentiality
In some cases, employees may be hesitant to report sexual harassment because they don't want to make things worse. Or they fear being seen as a complainer.
Your sexual harassment policy should protect victims and whistleblowers by keeping their claims confidential. This should be spelled out directly in the policy.