The challenge? Doing it effectively and in a way that doesn't cost an exorbitant amount of money or take valuable resources away from the main mission of top-notch patient care.
Building an effective compliance program can seem formidable, especially if you are laying the foundational elements of compliance.
To do the job right, you must create dozens of policies, procedures, processes, and systems that tackle compliance requirements. They should cover prevention, detection, and correction of fraudulent or illegal behavior and any other compliance issues.
Plus, it takes effort to make sure employees at every level understand the benefits of a healthcare compliance program. This requires communicating expectations, providing staff training, and assessing the compliance program's strengths and weaknesses.
Daunting? Yes. Doable? Absolutely.
To help jumpstart your efforts, focus on the following seven elements of an effective compliance program. Then incorporate these key elements into the step-by-step process that follows.
The good news about figuring out how to implement a compliance program at your facility is that you can tap into guidelines already developed by the Office of Inspector General (OIG).
1. Establish and adopt written policies, procedures, and standards of conduct. Having clear written policies and procedures in place that describe compliance expectations fosters uniformity within your company.
2. Create program oversight. Determine who will oversee, monitor, and enforce the compliance program and serve as your go-to company "watchdog" with questions and concerns.
3. Provide staff training and education. Employees at every level need to understand your compliance program expectations and standards to be able to comply with them. Implement a training program that clearly communicates your company's program requirements, with an annual refresher course that reminds employees of your code of conduct and incorporates any changes.
4. Establish two-way communication at all levels. Set forth the expectation that employees should proactively communicate in a timely manner, whether that means asking compliance questions, reporting issues, or addressing ethical concerns. Include a way for employees to anonymously report compliance issues or fraudulent or illegal behavior without fear of retaliation.
5. Implement a monitoring and auditing system. You'll need to measure the effectiveness of your corporate compliance program and identify risks. To accomplish this, develop a system of both internal and external monitoring, including formal audits.
6. Enforce consistent discipline. Develop a plan to enforce standards of conduct in a timely manner, outlining appropriate disciplinary measures for employees who fail to comply with program requirements.
7. Take corrective action. When you identify vulnerabilities or violations through monitoring and auditing, take timely, consistent action to correct the issue.
More good news – in addition to the OIG's published guidelines, you can also access additional helpful resources (via the U.S. Department of Health and Human Services) at the Compliance Resource Portal.
With these guidelines in hand, you can now take action to incorporate these key components into an effective healthcare compliance program.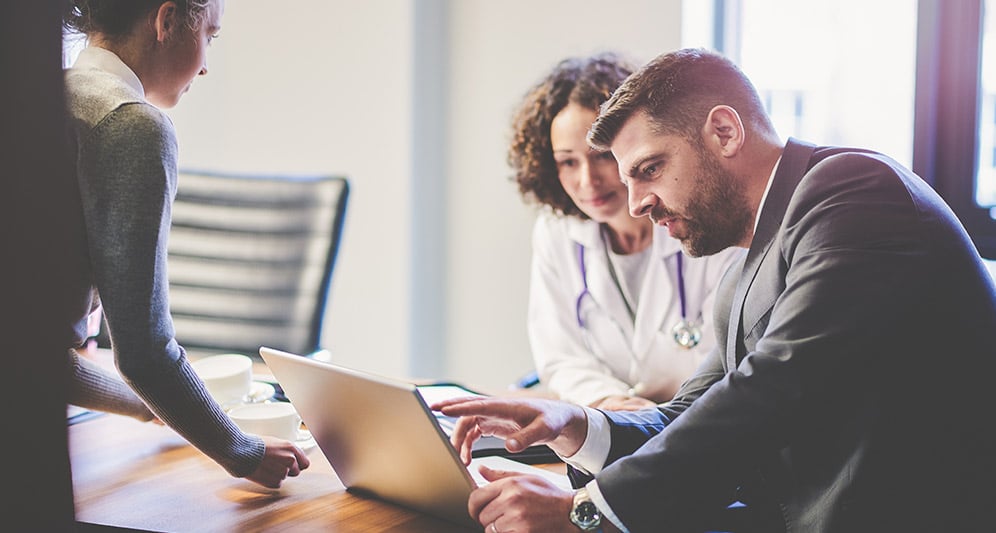 From the start, your healthcare compliance program must have a clear mandate, a prescribed authority to operate, and well-defined mission and goals. With these parameters in place, you can start building an effective compliance program at your facility.
1. Collect all of your policy and procedure documents into one system
Before moving ahead, it helps to first understand your starting point. Therefore, a good first step involves conducting a policy audit, which allows you to take inventory of existing policies, procedures, and standards of conduct.
Doing a comprehensive audit establishes a baseline and identifies any gaps in implementing policies, procedures, and standards, as suggested in the first key element above. While facilities of every size need to do this, it is especially important for healthcare systems with multiple facilities or in multiple states.
For example, by gathering policies you have already created, the process reveals how outdated or unrealistic these policies might be and allows you to update these important guidelines to better reflect current needs.
An audit can also expose a compliance gap, clearly identifying where you'll need to write a new policy or procedure that doesn't currently exist but should.
Depending on your facility, your policies and procedures might all be housed in a bulky employee handbook sitting on a shelf in the HR office. Or perhaps these policies and procedures are spread out across facilities since different departments might adhere to different sets of operating procedures.
To help simplify how you manage and store your policies and procedures, you might consider a policy management software like PowerDMS that maintains all your critical documents in one central, online repository.
Regardless of where you keep your policies and procedures, you will need to corral them into one location for an effective policy audit now and for easier management and oversight in the future.