Article highlights
Corporate and regulatory compliance may not be the most exciting business concept, but your company cannot run without some level of compliance. Violations of the various corporate policies, regulatory policies, laws, and accreditation requirements can all have a negative impact on your organization, from fines and penalties to lawsuits and even criminal charges.
Corporate compliance enables your organization to operate safely and efficiently with the policies the organization has set forth to meet its founders' and executive vision. Regulatory compliance ensures that your employees follow all laws and regulations set out by the federal, state, and local governments.
And because both kinds of policies change regularly, it's important that your organization offers compliance training to help all your employees, partners, and even your customers understand the rules and regulations you must follow.
However, with all the different facets of day-to-day operations and various other training you offer, it's easy for compliance training to get overlooked or rushed through. Some organizations may only spend half a day on the policy compliance, or hand their employees a copy of the employee handbook and hope they read it on their own.
But ethics and compliance training are important, and it's been shown to be a worthwhile business practice. As the Association of Corporate Counsel points out:
An organization's commitment to its compliance program and training plan can yield economic benefits. One study found that for every dollar allocated to an organization's compliance budget, on average, "damages, settlements, and fines [decreased] by $1.37."

Another found that organizations investing an above-average amount on training were projected to have returned an average of 45% more than the S&P 500 index.
Effective ethics and compliance training are more than just formalities in the onboarding process. Workplace compliance training should be ongoing, keeping employees updated on new regulations and policies.
In some cases, your accrediting organizations or governing agencies may even require this training, as well as tracking and proving that everyone in the organization has been fully trained and understands these policies.
What is compliance training?
Compliance training is the process of ensuring employees understand all the relevant laws, regulations, and internal policies that govern the function of your organization. It also ensures that they know how – and why – they need to adhere to them in their work.
Effective training walks employees through examples of how issues of ethics and compliance apply to their roles in the workplace, and it can give them the guidance they need to handle different situations and dilemmas they may face.
Good compliance training helps employees flourish. They know their responsibilities and boundaries and can work productively with less supervision. They also know how to react and what steps to take when they encounter a new situation that puts their ethical training to the test.
Compliance training is different than other corporate training
Compliance training is different than general training which typically covers job functions and operations. Those types of training may cover how to use the ERP software, how to file a report, or how to request time off. Compliance training covers a broad spectrum of topics and rules.
The training can include business and employment laws and explain the penalties for violating them. It can also cover industry-specific regulations, such as financial disclosures, the privacy of patients/clients/members, and even reporting requirements. And it should also cover legal and ethical issues, as well as your organization's values, principles, and operating philosophies.
Compliance training should be compulsory and ongoing. Not only should every new employee participate in compliance training, but it should be an annual event for everyone in the organization. When this is done well, it lays the groundwork for a healthy workplace culture where you can discuss issues, and head off potential problems before they arise.
Compliance issues that require training
The exact issues covered in compliance training will differ between organizations and industries. Even the types of training may vary from job to job, department to department.
For example, some industries, like healthcare or financial services, are more highly regulated than others, like Software as a Service (SaaS) companies. They'll require more training on things like HIPAA regulations or the Sarbanes-Oxley Act.
Some of the topics organizations may cover in compliance training include:
Federal and state laws
Company procedures and policies
Code of conduct
Data privacy and security
Fraud detection and prevention (anti-money laundering, anti-bribery, etc.)
Business ethics (gift policy, conflicts of interest)
Workplace discrimination
Sexual harassment
OSHA regulations and workplace safety
Workplace violence
Risk management
Workplace substance abuse
Workplace violence
Diversity and inclusiveness in the workplace
Compliance training may vary between departments, as well. For example, companies may require employees in the finance department to do more intensive training on fraud prevention than employees in the production department.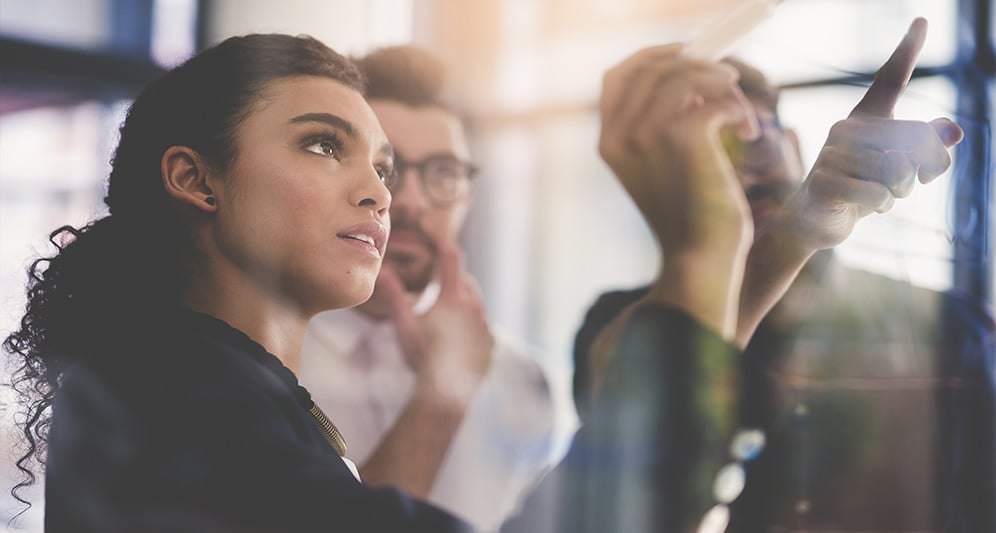 Benefits of compliance training
The consequences of noncompliance can damage an organization. We can read story after story of companies, governmental agencies, and high-powered individuals committing ethical and regulatory violations that can result in major fines, drops in revenue, damage to the organization's reputation, and even arrest and criminal prosecution.
It's not enough to simply provide employees with a list of the rules they need to follow. You can't just hand someone a binder on their first day of work, expect them to read it, and have it govern the way they operate for the next ten years.
Compliance needs to be baked into your organizational culture – compliance training helps make that happen.
In most cases, employees don't break the law intentionally. They don't set out to break it, and it was never their plan when they got to work that morning. Often, a violation happens because the employee didn't know about a rule or didn't understand how it applied to their work.
Compliance and ethics training helps employees understand how to stay in compliance and follow these rules. It helps them identify and report any violations they see. And they can help spot potential compliance issues before a violation occurs, even helping their colleagues avoid a problem.
All of this helps the entire organization stay in compliance, by making sure everyone is responsible for it. When everyone understands the expectations and standards, the organization can operate at its optimal level.
But if a compliance issue or even a lawsuit does arise, your training records show that your organization trained its employees about the various regulations and that you took steps to maintain compliance. This can help decrease your organization's liability and risk of a lawsuit.
For example, if an employee got injured on the job, your compliance training records would show that the organization took every reasonable step to maintain a safe working environment and that you had trained all your employees in the various safety procedures. That puts the onus for safety practices back on the employee and protects the company if that employee tried to bring a lawsuit against your organization.
A good workplace compliance training program helps your company follow laws, reduce liability risks, and operate effectively. It protects the organization from all sorts of legal, regulatory, and even corporate violations that could result in heavy fines and civil and criminal penalties.
As you seek to provide regulatory compliance training to your organization, be sure you offer interesting and personalized training content, make your training is accessible through a number of different channels, offer the training on a regular basis, and then track everyone's completion and understanding of what they have learned.
To learn how to do that, you can schedule a free demo of PowerDMS' training management software and learn how you can protect your organization.