Bridging the Gaps Between Police, Fire, and City Hall
City administrators in Henderson, NV, know that excellence starts with good policy. Well-managed policies help protect the community, ensure accountability, and promote consistency across the municipal government.
Several years ago, the Henderson Police Department started using PowerDMS to manage policies and procedures. The Fire Department began using PowerDMS a few years later, and now the city government is in the process of onboarding over 1,000 employees into the system.
Using PowerDMS in government, fire, and law enforcement simplifies city-wide communication. Administrators can efficiently collaborate on city-wide policies and distribute them to all government employees. Leaders in all public institutions in the city can access SOPs, promoting transparency and shared knowledge.
The Police Department
toAccording to Lt. John Gayer, the old policy management process for the department was an inefficient one: new policies or policy updates were distributed at briefing training via paper handouts, or sometimes through email. All officers were then required to physically sign logs to show that commanding officers covered all updated policies and training content.
It was a smattering of paper and digital policies with no single repository where policies could be reliably accessed and signed. Above that, ensuring the department staff read and understood policy content was almost impossible.
Now Henderson Police Department has one central, secure place to manage all their content in PowerDMS. Paper handouts at training briefings are no longer required, as administrators can disseminate policies with a few clicks right into the inboxes of employees.
Lt. Gayer and those with administrative privileges can see who has read or signed the content and take disciplinary action if need be.
The staff previously accessed policies and procedures from one unwieldy Word file. The process for finding a specific policy or directive was frustrating and an inefficient use of time.
It's important that officers can quickly pull up a policy when necessary changes are made or when they need to reference an agency directive in the field. PowerDMS includes a robust search feature that makes finding what officers need seamless.
Lt. Gayer explained how when he wants to find a particular policy, he begins typing in relevant keywords and the most relevant content appears at the top, courtesy of the intelligent search function built into PowerDMS.
But the benefits of PowerDMS to Henderson Police Department don't stop there. Thanks to PowerDMS, Lt. Gayer, and his fellow officers engage with city-wide updates efficiently.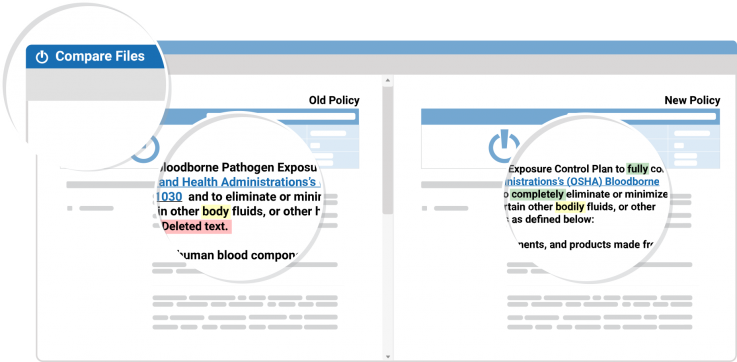 Before PowerDMS, when Henderson's HR department published a PDF file of relevant legal information, Lt. Gayer and his fellow officers would need to wade through 50+ pages to find updates, then send an email confirming receipt and comprehension of those changes.
Now, Henderson Police Department employees click one button and PowerDMS presents them the new and old documents in a side-by-side comparison, highlighting any additions, edits, or omissions.
These tremendous time savings for both Lt. Gayer and his staff mean less effort wrangling documents and more bandwidth for meaningful police work.
The Fire Department
The Henderson Fire Department initially adopted PowerDMS to help with documentation for accreditation.
Monica Day, a business analyst in the department, says her agency was struggling to control versions of important documents. In some cases, they had three different versions of the same SOP in three different places.
They knew this was a problem not just for accreditation, but also for firefighter accountability, promotions, and training. When fire administrators heard how the Henderson Police Department had used PowerDMS for CALEA accreditation, they decided to give it a try.
Day says PowerDMS has helped fire administrators keep documentation straight and make sure everyone sees the most up-to-date version of each policy and procedure. Day is now confident that every firefighter gets the right version when they're studying for their promotions.
PowerDMS makes Henderson Fire Department's policies and procedures more portable. Firefighters can log in from any mobile device to quickly access SOPs and information when they're on a scene. Day says firefighters regularly use PowerDMS to pull up things like tables of how much medicine to administer.
For Day, the most significant benefit of PowerDMS is the added accountability and safety that comes with firefighters knowing the current policies and procedures.
The City
A few years ago, the city of Henderson decided to revise all of its administrative policies. Some of the internal content hadn't been updated in over a decade.
Human Resources and the City Attorney's office helped lead the charge in collaborating on revising policies. Revising policies involves personnel from many different departments, such as the human resources department, the city attorney's office, and the city manager's office. There are often 8 to 12 people providing feedback and suggestions on each policy.
Mimi Merhi, HR Programs Coordinator, remembers what a hassle it was to try to organize all of the feedback manually and keep revisions on track. She had to look through all the different versions and recommendations and try to pull them all together into one cohesive, final policy.
When the policy revision process was over, city administrators faced the challenge of distributing the updated policies to employees. They sent out a link with the new policies, but they had a hard time making sure every employee signed off saying they had received and read the new policies.
Merhi knew this could be a problem going forward. Not having a record of employee signatures on new policies could open up the city to liability risks in the case of litigation. If an employee were to appeal termination or a disciplinary process, they could potentially argue that they had acknowledged the employee handbook as a whole, but had not been aware of a particular policy. Or perhaps even that they hadn't seen the policy since they first started the job.
"Having the history of policy changes and providing a much more efficient way to track communication and acknowledgment makes PowerDMS well-worth the investment."
Mimi Merhi - HR Programs Coordinator, City of Henderson, NV
Government administrators knew that the Henderson Police Department and Fire Department were using PowerDMS. When Merhi heard about collaborative workflow feature built into PowerDMS, she knew it was just what the city needed.
Now, instead of having to gather and organize policy feedback simultaneously from many different people, she can set up an automatic workflow. This lets her see which collaborators made which edits and notes, and ensures that everyone is working on the same version of the policy.
She says the electronic signature feature in PowerDMS is also a significant asset. In the event of a complaint, the city can show that the employee signed off on the policy in question. Administrators can even see detailed information such as the dates the employee opened the policy and signed it. This helps hold employees accountable and protects the city as a whole.
PowerDMS also helps Henderson's city, fire department, and police department keep up with ever-changing best practices and regulations. Leaders can easily collaborate on policy changes, make sure everyone has access to the most up-to-date information, and gather employee signatures. This protects the entities, ensures that employees can do their jobs safely, and helps the city serve the community with excellence.
Loved by organizations like: