According to the U.S Office of Personnel Management, being accountable means "being held answerable for accomplishing a goal or assignment." Without accountability, there are no standards for performance, compliance, or ethical behavior in the workplace.
Given its public nature, accountability in local government is especially important.
What does accountability mean in government?
Understanding the importance of accountability in local government starts with understanding to whom you are accountable. As a public servant, you are accountable to local, state, and federal guidelines. But on a day-to-day basis, you answer to the citizens you serve.
You are responsible for using your resources for meeting the needs of your community to the best of your ability. Only with accountability in the workplace will you be able to accomplish this.
Why is accountability important?
Accountability in local government can have a number of positive benefits for both your team and the municipality you serve. Most obvious is the benefit of improved employee performance. When your employees know you will hold them accountable for their actions on the job, they will be more likely to adhere to a standard of excellence.
Knowing there are actual consequences for poor performance and behavior means your employees have a reason to do their best every day.
But accountability isn't just about avoiding negative consequences. If you hold your employees accountable for their performance, it's also important to recognize their efforts.
Of course, positive reinforcement boosts morale, which can be motivating for everyone. But recognizing employees' success will also increase their confidence.
When employees feel competent in their roles, they may be more creative or innovative in how they do their jobs. They may also be more likely to come to you with problems or concerns. This means you can work to continually improve your operations.
As you can guess, the benefits of employee accountability in local government don't end when the workday does. By holding your employees accountable, you are advocating for a better local government.
At the end of the day, expecting and enforcing a high standard for performance and behavior builds trust in your community. Local governments can't fulfill their responsibility if citizens don't trust them to make good decisions for the community.
Letting behavior and performance go unchecked can yield negative results for both your employees and those they serve.
Think of it this way: Accountability in local government isn't just about rules and regulations. It's about ensuring your employees can and will do their jobs well.
If you don't consistently hold them accountable, your employees won't take your policies seriously. Confusion about or lack of respect for expectations will ultimately compromise performance and decrease trust in your workplace.
Of course, this will lead to a chaotic, frustrating work environment. It can also lead to liability issues in the future. If you didn't enforce a policy with one employee, another employee might be unclear about the expectation for them to follow the proper procedure.
But more importantly, poor employee accountability can negatively affect your relationship with the citizens you serve.
The public expects and deserves transparency in local government. Unethical practices or lack of attention to policies can have dire consequences for your municipality, ultimately breaching public trust.
Keep in mind that even the appearance of corruption can affect how your community sees you. For all these reasons, it's crucial to take employee accountability seriously.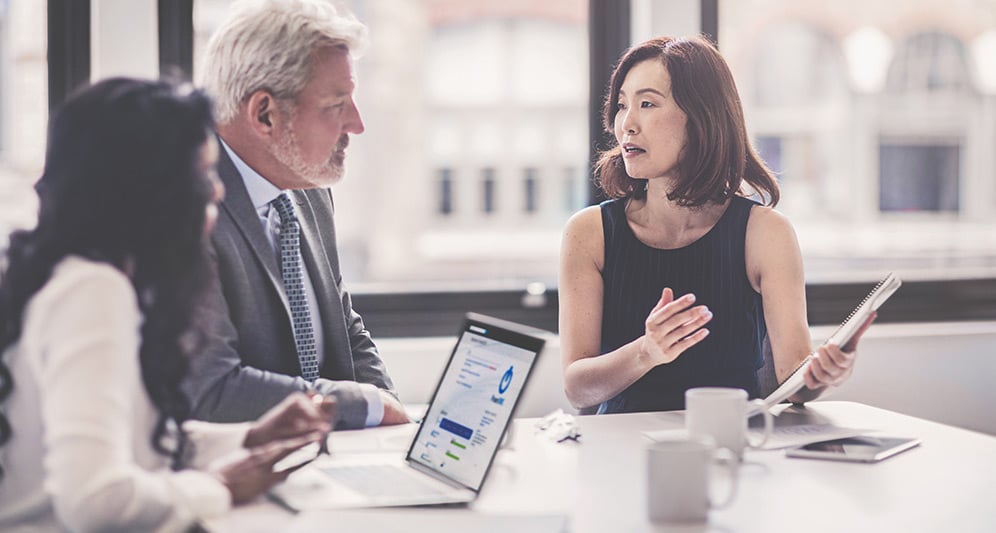 Improving accountability in your local government is a key step to serving your community well. But getting there doesn't have to be overwhelming. If you want to know how to hold employees accountable, start with these tools.
1. New employee onboarding
Ensuring employee accountability in local government means starting off on the right foot. Unfortunately, having employees sign the back of the policy handbook on their first day simply isn't enough to ensure compliance.
From day one, you will want to make your expectations and policies crystal clear with an onboarding process.
Only when your employees fully understand what you expect can they deliver on a day-to-day basis. A cohesive onboarding and training strategy ensures your employees will not just sign off on handbooks, but read and comprehend them.
Along similar lines, your employees will take your policies much more seriously if you demonstrate from the get-go that you do, too.
More than just outlining your policies and procedures, onboarding can help your team understand the "why" behind them. Seeing why your mission, vision, values, and policies are important to your municipality can help employees "own" their jobs, leading to better long-term performance.
Keep in mind that the right software can assist you in your training and signature tracking efforts. With a policy management software like PowerDMS to streamline training and track who has signed what, you can focus on doing your job well and empowering your employees to do the same.
2. Performance reviews and goal setting
Once your employees understand expectations, it's time to measure whether or not they are meeting them.
Providing feedback on a regular basis through informal touch points or formal reviews is an important way to ensure accountability in your local government.
Going over areas for improvement gives employees a chance to recalibrate their efforts with expectation and sets the tone for better performance. If your team is missing the mark, take the time to set specific, measurable, and timely goals together.
Keep in mind that there are two sides to the coin. Creating an environment of accountability also means recognizing achievements. Though positive reinforcement seems like a no-brainer, it's not as common as you would think.
In a survey of nearly 4,000 managers, the General Accounting Office found that 63% of managers said they were held accountable for the results of their programs.
Unfortunately, only 31% of these managers said employees received positive recognition for meeting goals. If you want to hold employees accountable for performance, you also need to recognize their efforts.