Drones are becoming increasingly popular in public safety. According to a report by Bard College's Center for the Study of the Drone, as of April 2017, nearly 350 state and local police, fire, and emergency service units had acquired drones.
As discussed in our post about drones in the fire service, firefighting drones can serve several purposes. Drones can help with rapid fireground assessment, providing a comprehensive picture of the scene.
Commanders can use drones to quickly gather critical information on the scene of a fire or an incident involving hazardous materials. This reduces risks for firefighters and helps leaders determine how best to respond.
Drones in the fire service can also be used for search and rescue operations. Drones can quickly search large areas. They may even be able to deliver food, water, or first aid kits to places firefighters can't reach.
However, in order for firefighter drones to be effective, the department must implement a program with comprehensive policies.
The policies should line up with federal and state regulations, such as those from the Federal Aviation Administration. They should specify when and how the department will use drones, what training is required for pilots, how the department will store the video and data collected by the drone, and more.
For example, the Austin Fire Department's UAS SOGs include general flight rules, training requirements, emergency procedures, and more.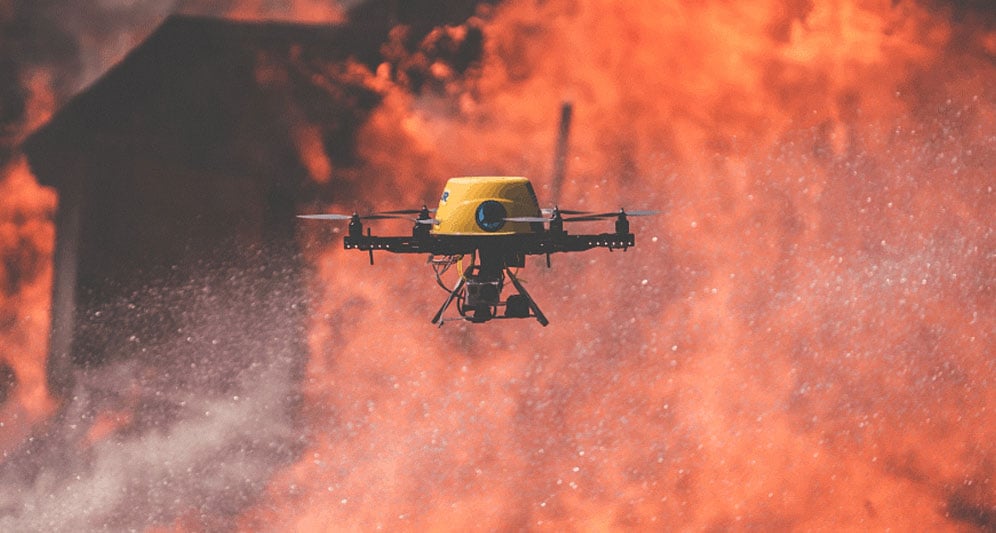 Personnel Location Equipment
On the scene of an emergency, firefighter accountability is key. It's essential for commanders to know the location of every firefighter. This is especially true in the case of an unforeseen event such as a structural collapse. Quickly locating an injured or trapped firefighter can make the difference between life or death.
Pinpointing the exact location of firefighters has long been a challenge. Fire technology such as radios and GPS can be unreliable inside buildings.
However, there are several types of new firefighter technology that use more effective tracking methods. With most of these, firefighters wear small devices that transmit their exact location to a command system.
Some of these technologies even integrate with firefighter equipment to help commanders monitor each firefighter's air levels, thermal alarms, radio connectivity, and more.
In-Helmet Thermal Imaging Displays
Hand-held thermal imaging cameras have been a regular part of firefighter tools and equipment for decades.
Thermal imaging cameras have improved over the years, becoming smaller and more accurate. Many companies even started making cameras that attached to firefighters' helmets, freeing up their hands for other tasks.
One of the latest advances in technology in the fire service is a helmet that incorporates a thermal imaging camera into the face piece.
This gives firefighters constant visibility in thick smoke while leaving their hands free. Some of these technologies even show a wireframe overlay of the surroundings, giving firefighters more awareness of what's around them.
Providing firefighters with more real-time information in this way can help them make critical decisions and stay safe.
One such technology is Scott Sight, which Popular Science magazine named one of the best new technologies of 2016.
The director of Scott Safety's growth initiatives and life-safety products said the in-helmet thermal imaging solution was a response to direct feedback from firefighters.
"Scott Sight helps them see things they didn't even know they were looking for," he said. "It's what we call situational intelligence."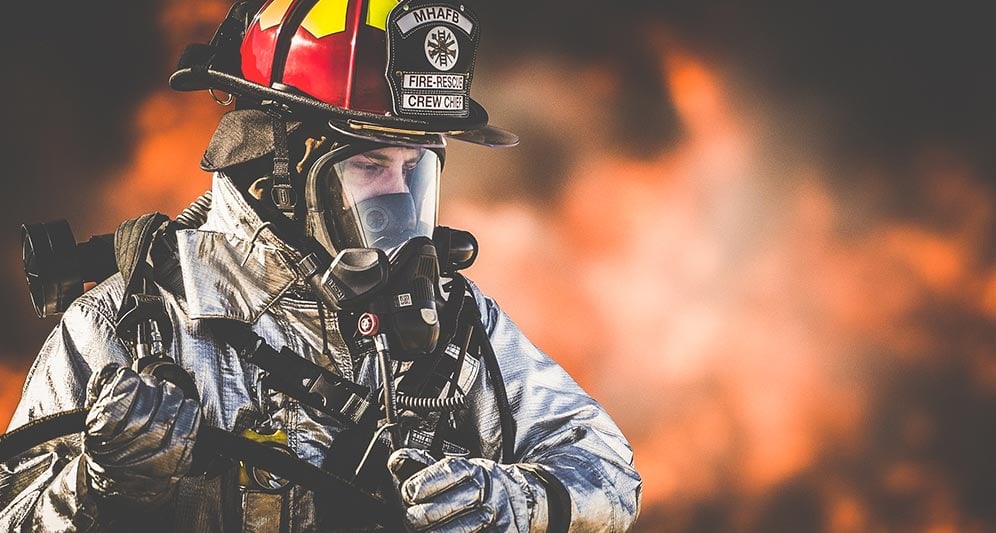 Mobile apps and tools are impacting every industry, and fire is no exception. Every firefighter carries some sort of mobile device, and fire departments are starting to use them to improve communication and situational awareness.
After 9/11, public safety leaders recognized the importance mobile technology in the fire service, pushing for a nationwide public safety broadband network.
Recently, AT&T partnered with the First Responder Network Authority to create a core network infrastructure that prioritizes the mobile needs of public safety personnel. It includes things like enhanced security measures, increased coverage, and better location-based services.
The goal of FirstNet is to improve communication and give responders access to the information they need when they need it. It gives first responders priority so they can communicate effectively even in situations where commercial cell networks are overloaded.
FirstNet will also feature an app developer program and an app catalog. Public safety apps can help fire departments coordinate with law enforcement and emergency services and communicate with the public.
Apps can also provide helpful resources for firefighters – helping with everything from calculating pump pressure, to identifying drugs, to keeping track of personal health goals.
Mobile fire technology can also help streamline internal operations and communication within the department.
Cloud-based technology like PowerDMS allows firefighters to access policies and procedures on the go.
With PowerDMS, commanders can quickly share critical information on risks, tactics, and procedures to keep firefighters up-to-date and ready for action.
Smart Jackets
Along with protection from external threats, firefighter safety must encompass accountability for the personal health of firefighters.
In 2016, 42% of firefighter fatalities were caused by overexertion or stress. More and more, fire departments are starting to put more emphasis on the health, fitness, and wellness of firefighters.
Of course, fire departments can't monitor every aspect of firefighter health. But some firefighting innovations are combining multiple technologies in one to keep firefighters healthy and safe.
Some companies are developing firefighter jackets that use the latest fire-resistant fabrics and also incorporate personnel tracking technology and sensors that monitor heart rate, temperature, and motion.
While not many of these combined jacket technologies are on the market yet, there are plenty of technologies that help monitor physical stressors that firefighters face on the job.
As firefighting technology advances, these monitors can help keep firefighters safe by alerting them when they're at risk for overexertion.
Cloud Computing
Tracking fire data can be extremely helpful in predicting fire dynamics, improving response times, and more.
Cloud-based technology can help fire departments make sense of the increasing amount of data flowing in from sensors, drones, and mobile devices. Many of the software includes components that analyze data to show big-picture trends, issues, and potential risks.
Cloud-based software such as PowerDMS stores all department data and important information in one secure location. This helps reduces the risk of essential documents getting lost or damaged. It ensures that everything is up to date and easily accessible from anywhere.
Smarter Dispatch
In the past few years, Computer Aided Dispatch (CAD) technology has transformed dispatching in the fire service. CAD systems help dispatchers quickly gather the information they need and share it with the correct response team.
New dispatching technology helps reduce response times and maximize efficiency. Some even integrate with mobile apps to provide route recommendations, pre-fire plans, and information on hazardous materials.
Dispatching technology is also beginning to integrate different forms of communication. For example, Next Generation 911 will soon allow emergency victims to communicate with dispatchers with text messages, photos, voice recordings, and videos.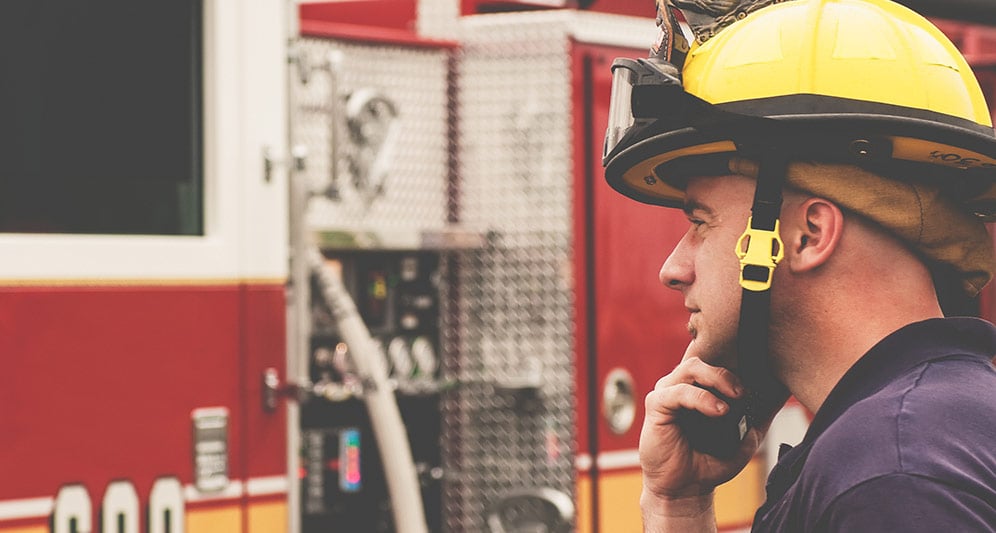 Firehouse technology is also transforming firefighter training.
It can be difficult for trainers to simulate many of the dangerous situations firefighters must learn to handle.
Advanced technology such as virtual reality can help firefighters learn how to react in realistic scenarios without putting them in harm's way.
Dan Wright, the owner of Wright Public Safety Consulting and Training, told Firerescue1 that he sees virtual reality playing a big role in the future of fire training.
"It will give us the opportunity to immerse students into real incidents, allow them to see outcomes and develop critical thinking skills," he said. "I believe it will disrupt the training model as we know it."
Firefighter training technology can also help with the parts of training that were traditionally done in a classroom.
With online training tools like PowerDMS, firefighters can complete training on their own time. This saves the department time and money.
PowerDMS also makes it easier to track training. Administrators can view training trends across the department as well as complete training records for each firefighter.
Technology in the fire service can help streamline operations and keep firefighters safe.
With limited public safety budgets, not every department can have all the latest technology. But staying aware of trends in fire technology can help departments utilize the technology they do have to improve firefighter readiness and safety.