Regulatory compliance is a challenge for most healthcare organizations. Keeping policies up-to-date and accessible for all staff, managing provider credentials, preparing for your next accreditation survey – all while you're overworked and understaffed. It's a lot to keep up with.
Whether you're in acute, specialty or long-term, ambulatory, primary or home care the inability to manage and track policy updates poses a risk to you and the patients in your care. Staff not being aware of recent policy changes, or even where to find them, are sure-fire signs your organization may be at risk.
Inadequate policy management can lead to RFI/OFIs during on-site surveys , an inability to discipline employees, loss of accreditation status and funding, and/or regulatory fines. Not to mention the risk to your patients if staff are not following the right protocols.
How organizations attempt to solve these problems
In all likelihood, your organization has put measures in place to mitigate these risks. Likely many measures. Whether that's a homegrown portal to house your internal documents, a shared drive, or some manual process involving paper, email, and spreadsheets, you're probably spending a good amount of your time updating the systems that are supposed to make your job easier.
With PowerDMS, there's a better way.
Our modern policy management platform is built with you in mind. Our intuitive user interface makes it easy to navigate and find what you need quickly and easily. Our admin tools allow you to manage the platform without the need for IT involvement. Our secure repository allows you to manage all of your policy, training, and accreditation content from one cloud-based platform. And our best-in-class accreditation management solution gives you tools to take the headache out of survey prep. Features like mock surveys, digital proofs of compliance, gap analysis, and alerts when a standard update may affect your policies help you get survey-ready in less time.
Beyond that, PowerDMS gives you the features and functionality to make you more efficient at your job.
Get policy revisions approved in less time using customizable workflow tools

Spend less time answering policy questions as staff have a single, searchable repository for all policies and procedures

See a complete audit trail of every policy, from creation to signature tracking, with just a few clicks of your mouse

Stay survey-ready between accreditation cycles by using a platform with AAAHC, DNV, CIHQ, NCCHC, and TJC standards manuals published alongside your content

Eliminate spreadsheets in favor of automated tools to manage your policy reviews, contracts, credentials, preference cards, and other important documents
More than 4,200 high-trust organizations use PowerDMS to manage their most important documents – so we have data to back up our claims. Including:
Update policies 4 times faster using PowerDMS

Cut onsite assessment from 4 days onsite to 1 by providing assessors remote access to your accreditation files ahead of time through PowerDMS

Get your facility survey-ready up to 60% faster

Save hours by setting up automatic renewal dates for vendor and physician credentials
We also have more than 500 5-star reviews on third-party sites including Capterra, TrustRadius, and G2. So you don't have to take our word for it – see for yourself what others are saying about PowerDMS.
"We can't imagine life before PowerDMS."
- Jason P. via Capterra
"PowerDMS has streamlined our entire policy and procedure process."
- Cody H. via Capterra
"PowerDMS is a great solution for accreditation!"
- Laura W. via TrustRadius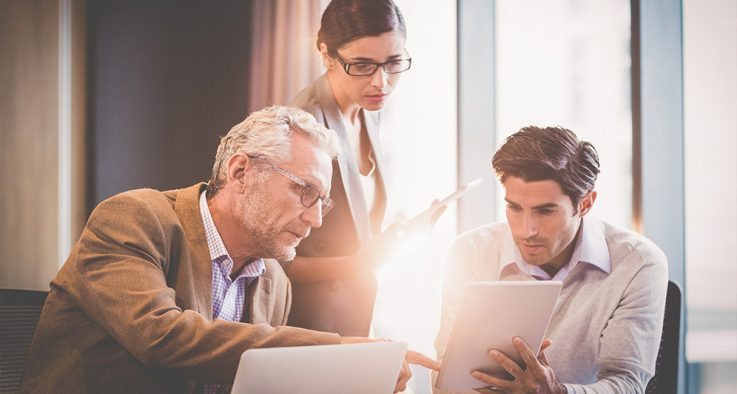 How we help you
PowerDMS will benefit all levels of your organization. However, we have found the people who see the most direct, day-to-day results from using our platform are chief nursing officers, chief human resource officers, regulatory compliance directors/executives, quality managers, patient safety and risk officers and bedside staff.
Here's how.
Chief Nursing Officer (CNO): The platform provides a "security blanket" that ensures the provision of care, (the ultimate responsibility of the CNO) is clearly defined, communicated and accessible to all staff providing care.
Chief Human Resource Officer (CHRO: The platform provides a single source of truth for dissemination of critical policies, provision of required training, and sign-off verification capabilities for performance management.
Regulatory Compliance Director/Executive: The platform puts the right information into the hands of employees and gives them the ability to do their job with excellence. It streamlines policy development, review, and dissemination, required training delivery, standards update reviews, mock tracer activity, readiness/follow-up audits and C-suite reporting by having a single view across the organization.
Quality manager/director: The platform provides real-time data views allowing organizations to constantly assess failure risk, as well as, provide compliance data for previously addressed quality issues.
Chief Operating Officer: The platform structures and streamlines complicated approval processes involving sign-offs from multiple internal stakeholders. PowerDMS manages common processes such as policy and procedures, contract management, provider accreditation, HR required documents, and more.
With our automated policy reminders and approval workflows, we take the guesswork out of this process, freeing hundreds of hours of your time to work on more than just emailing colleagues to track down their comments. We also save our customers an average of $11,000 in paper and printing costs alone. This amounts to more than 47 trees saved per customer.
Patient Safety/Risk Officer: Ditching the difficult, homegrown solutions in favor of a modern platform designed specifically for this purpose may seem like a far-fetched dream. But with the savings you'll receive in paper, toner, resources, and most importantly, your time, it's easy to justify the ROI in the right technology.
Get started
We don't believe in high-pressure sales tactics – we don't like it when we're on the receiving end, and we know they simply don't work. So if you're interested or are curious to understand how PowerDMS may be a fit for your situation, reach out. We'll listen and answer any questions you may have. If you like what you hear, great – we can discuss next steps. If not, at least you'll be equipped with the best information to make an informed decision that's right for you.
And if you haven't done so already, consider checking out our article How we differ from the competition. This article goes into more depth on what sets us apart from the rest.